MONTE MONTGOMERY Wishing Well/Live at the Caravan of Dreams Provogue (2009)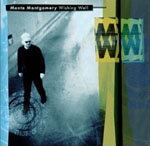 Monte Montgomery's re-issued debut album 'Wishing Well' and the more abrasive 'Live at the Caravan of Dreams' are the work of a virtuoso guitarist and power trio (plus added percussion) trying to find a balance between some incredible playing and finding a style of their own.
In one sense, of course, Monte and band are already unique being an acoustic power trio - albeit an amplified acoustic electric experience at maximum volume. And each one of Monte's electrifying runs is exquisitely underpinned by bass player Chris Mersh and drummer Phil Trevino with the helping hand of Michael Urdy on percussion. But just like his changing hairstyle, Monte is a restless spirit in search of new songs and new landscape in which to contextualise his startling guitar style.
Thus 2001's studio album Wishing Well (Provogue PRD 7280 2) is a more AOR oriented record with the emphasis on songs, thinly disguised melody lines and an occasional leanings towards the west coast introspection of Jackson Brown. Monte also has a way with words that is often to be found in the chorus. Thus on the opening 'Tug of War he concludes his broken relationship song with the lovely line, 'fraying rope in this tug of love'.
The title track is characteristic of Monte's real intent, mixing some melodic AOR with scintillating ascending guitar lines while another love song 'Erased' features some beautiful interplay between amplified acoustic guitar and bass. And if you can get over the backing vocal oooh's and aaah's on 'Broken Arms' you will find much rich reward as the slow burner impressively gathers momentum. But knowing just how dazzling Monte's playing is (he's been voted into the All-time 50 Greatest guitar Players by Guitar magazine) you are constantly waiting for the pay which duly arrives on the rockier 'Soldier at His Best'.
That said, Monte is equally adept on the Scottish influenced instrumental 'Bagpipe' and he seems happiest of all on a nother Jackson Brown influenced 'Sunset Lullaby'. ***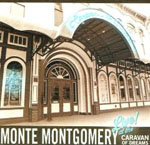 Since these albums were recorded Monte has been sold to the Europeans as the latest guitar god, and although he clings to his song writing ethos on the double live album Live at the Caravan of Dreams (Provogue PRD 7281 2), it's the band and lively audience connection that pushes the band into overdrive. 'Soldier at His Best' again stands out, while the subliminal reggae undertow of 'Love Come Knockin' finds Monte in his element, generating a call and response sequence between repeated a guitar line and audience.
Significantly perhaps, side one finishes strongly with a cover of 'World Turning' by his heroes, the Buckingham/Nicks version of Fleetwood Mac. For the rest, there is plenty of fiery playing and good humoured audience participation on the reggae inflected 'When Will I' and a cover of Hall & Oats' 'Sarah Smile' that has since given him a significant internet presence. ****
Monte Montgomery is a one off, part guitar hero, part singer songwriter and while both these albums have their moments it is the double live that you might prefer to buy.
Review by Pete Feenstra
---
| | |
| --- | --- |
| | Print this page in printer-friendly format |
| | Tell a friend about this page |