MIKE OLDFIELD The Collection 2-CD, Mercury (2009)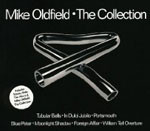 "Tubular Bells". A landmark album, the Builder of the Branson Empire, the Pinnacle of Prog, the Dawn of New Age. It has a lot to answer for. If you don't indulge in the website-only boxed "ultimate" set which features everything except a facsimile of Oldfield's seventies underwear (the smalls worn during the recording and subsequent promotional concert) you might be satiated with this 2-CD "Collection".
Disc one features a new stereo mix of Mike's magnus opus by the man himself. It doesn't really add much to the memory, and completists might be better seeking out the 5.1 surround sound version (available on the Deluxe Edition). A bonus edited version of the main theme and Viv Stanshall's version of 'Sailor's Hornpipe' round this out. And, of course, Stanshall's voiceover on the opus is as iconic as Vincent Price on 'Thriller'.
Disc two is an excellent catch up for those of you who were convinced Mike was a spent-force after his opus. Some may still be convinced that he was, after hearing this evidence.
Unfortunately in the late-seventies and into the eighties Oldfield went a bit electronica moving away from his pastoral folk-prog roots to something more mainstream. But his post-Bells activity is possibly better served by the earlier Platinum Collection (2006).
He was also guilty - indirectly or directly - of supplying theme tunes to the likes of 'Blue Peter' and Portsmouth FC which ensured a certain cloying familiarity. His idiosyncratic guitar style also got progressively more grating.
However, he did surround himself with some quality performers and the great Maggie Reilly lent her talents to the hit singles 'Family Man' and 'Moonlight Shadow' as did Family's Roger Chapman to 'Shadow On The Wall'. For some reason, Reilly's name is omitted from the credits to 'Five Miles Out'.
Some of the key tracks (such as 'Ommadawn' and 'Incantations') almost sound like re-runs of the 'Bells' Blueprint with their attractive, repeated, motifs and in truth Mike has milked it over the years both in his Millennium Bell incarnation and the more recent 'Music Of The Spheres'.
'TB' does sum up another world and, for some, the world in which they grew up in. How many times did I return the vinyl because it was "crackling"? How many times did you play the heavy bit six minutes into "Side One"? Do you remember demo-ing it in a Virgin Records store on a beanbag? And why did you eventually trade in your now perfect pressing on the original Virgin label with the "twins" logo?
Tubular Bells remains Oldfield's defining work and recorded when he was only 19. Sadly, perhaps, this 2-CD refresh is really all you'll ever need.
***½
Review by David Randall
---
| | |
| --- | --- |
| | Print this page in printer-friendly format |
| | Tell a friend about this page |