1978 live version of classic album...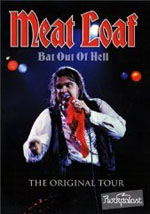 Almost everybody reading this will either have a copy of Meat Loaf's 1977 'Bat Out Of Hell' album, or will know the songs. The album has sold a staggering amount of copies (40 million plus), making it the third biggest selling album of all time, and reportedly still sells over 200,000 every year. The creative partnership between writer Jim Steinman and Meat Loaf was a rocky one and it wasn't until 1993 that they teamed up to make Bat Out Of Hell II: Back Into Hell (there was also a Bat.. 3, produced in 2006 by Desmond Child).
So let's go back to 1978 and the original tour in support of the album. This DVD was originally filmed for the German Rockpalast TV series and features 11 tracks packed with the dramatics and grand production of the record. You will no doubt know the songs already, but this performance also includes covers of 'Johnny B Goode' and 'River Deep, Mountain High'- alongside Bat.. classics such as the tile track 'Bat Out Of Hell', 'You Took The Words Right Out of My Mouth', 'Paradise By The Dashboard Lights' and 'Two Out Of Three Ain't Bad'.
Apart from Meat Loafs powerful vocals, Steinman's piano playing and the female vocal parts courtesy of Karla DeVito- there are also some great guitar moments provided by Bob and Bruce Kulick (later of KISS).
The DVD also features an interview with Jim Steinman and Meat Loaf from the original Rockpalast broadcast.
****
Review by Nikk Gunns