MARTIN NEWNHAM City Folk (2009)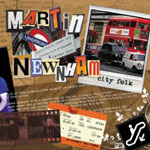 Coldplay have a lot to answer for. Who could have imagined that a few years after the excesses of Rock and Rap that a new raft of contemporary musicians would reach back to the singer song writer format, complete with introspective narratives and an overriding sense of self examination.
And it is Martin Newnham's apparent willingness to openly deal with his feelings that gives this album its gravitas on the contemporary roots scene.
For since the success of the late Jeff Buckley and more perhaps more relevantly that of Coldplay, the meditative song writer has become cool again. Maybe it's the prevailing sense of hopelessness in society at a macro level that has led to a new generation taking some sort of refuge by trying to make sense of the self in a context of prevailing hopeless despair. Suddenly we're drowning in a raft of singer song writers who have indirectly gone back to the folk singers art of the song and first person narratives.
And Martin Newnham fits well into the format.
He is a thoughtful emotive singer and his songs do convey real feelings. He further expresses the conflicting mix of hope, optimism and the contrary emotions of despair and sadness via a fractured voice that comfortably finds its place in the context of the catchy lovers lament 'Can't Turn Around' with its neatly thought out horn arrangement.
Then there's the repeated hook of the current single 'Come Back Gracy' which is quite moving. He also adds an emotional twist via an effective stripped down voice, drum and horn arrangement of 'Sunshine'. But while Martin has an intuitive sense of phrasing as well as an eye for some plaintive lyrics, he has the kind of gentle voice that evokes the fractured emotional psyche of the late Nick Drake.
He further emulates the latter's influence by revealing his talent as a narrator/story teller. On 'Done' he is not afraid to lay bear some raw emotional outpourings and adds a brief sonorous harp solo to help overcome the problem of a number of similar structured songs.
In fairness there are some clever horn and keyboard arrangements to add flesh to the bones of the songs but even then Martin treads a thin line between emotional identification and some rather over wrought moments such as the solo voiced intro to 'Ellie When'.
For the most part 'City Folk' is an outpouring of emotional, relationship-based angst and while some songs strike a chord - you can imagine for example that radio plays of 'As Night Falls' or 'Away' might have a big impact if heard on their own - in the context of 11 similar songs it places a lot of responsibility on the lyrical content to grab you emotionally.
But then again for the post Coldplay generation such an uncompromising and unreconstructed approach is the stuff of contemporary roots music. You are invited to commune with the singers angst, and cling on to the message, whether through Dylan's vocal short comings or Nick Cave's dark angst ridden outpourings. And while Martin Newnham deals more with the self, you suspect that while he pens songs with the beautiful closing harmonies of 'Whispers' he has a better than even chance of intuiting with the urban folk fans.
***
Review by Pete Feenstra
---
| | |
| --- | --- |
| | Print this page in printer-friendly format |
| | Tell a friend about this page |