MARILLION Reissues EMI (2009)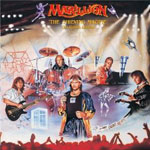 After the excellent live box set of a year or so ago, EMI give a reworking to some more Marillion live material .
The band were always a big live draw, and 1988's The Thieving Magpie was the band's second live album in four years, recorded on the 'Clutching At Straws' tour. By 1998, the band had moved from their prog roots to become a polished stadium band, and this set typifies the direction. Steve Rothery's guitar is less rather than more, searing, and intricate in just enough places. The keyboard, drums and bass are all equal in the mix, and vocalist Fish sounds pretty damn good too.
Disc 1 covers material old and new, from 'Sugar Mice' and 'Freaks' to 'Sugar Mice' and 'Incommunicado', it's a solid set. There's plenty of keyboard led tracks and hits too.
Disc 2 is Misplaced Childhood, the previous studio set that saw Marillion enter mainstream with hits like 'Lavender' and 'Kayleigh'. The whole set is played beginning to end, and thoroughly enjoyable it is too.
Overall a very good live album but it was a turning point for the band, with not only Fish leaving the following year, but the band were also at their commercial peak, in terms of hit singles and sound.
Recorded the previous year, Live From Lorely is another solid set, with several songs from Misplaced Childhood mixed in with songs old and new (avoiding the full album playback this time). This previously issued set comes expanded with previously unreleased tracks to complete the concert. Disc one opens with features several lengthy tracks, with 'Script For A Jester's Tear', 'Incubus' and 'Fugazi' all around the nine minute mark, and 'Sugar Mice' stands out too. Disc two kicks off with 'Hotel Hobbies' and features 'Kayleigh', 'Lavender' and 'Incummunicado'. Definitely the more commercial offerings, but finishing with 'Garden Party' and 'Market Square Heroes' finishes a good set, that also comes annotated by Fish himself.
Recital Of The Script is a 1983 live recording previously issued as a DVD, with one track appearing as a single b-side. Here is the full audio concert, again with a previously unreleased track to complete the show. The band were playing tightly performed and lengthy concerts at that early stage of the career, and the tracks even longer. Disc one features 'The Web', 'Chelsea Monday' and 'Garden Party', while disc 2 closes with the 18 minute classic 'Grendal'. Again annotated by Fish. Top stuff.
All are superb recordings, well packaged and expanded, and really well worth exploring if you have any remote interest in Marillion or 80s prog. Although all three may be live album overload for most bar the ardent fan.
All ****
Review by Joe Geesin
---
| | |
| --- | --- |
| | Print this page in printer-friendly format |
| | Tell a friend about this page |