MADNESS One Step Beyond Salvo 2-CD (2009)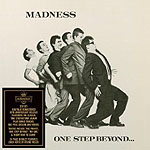 The soundtrack to many a youth. Certainly mine. You don't need to be a pop or ska fan to appreciate the impact of this debut album, both musically and it's impact on the chart scene. To call this a classic is an understatement, when Madness were at their peak of Ska Revival (after one single on the Two Tone label), mixing enough pop, humour, nous and sheer talent to take the music scene by storm.
Originally called The Invaders, Madness took their name from a Prince Buster tune (about whom they also wrote the hit single 'The Prince' on this album). One Step Beyond was an impact making debut, with the title track, the aforementioned 'Prince' and 'Night Boat To Cairo' (from the Work Rest & Play EP) all chartling highly. The ska sound is overriding. No commercial Reggae offbeat, this is the steam train chugging sound that is so catchy.
'My Girl' was also a single, and other tracks like 'In The Middle Of The Night' stand out too. Many are based on personal experience or wry comments on society. And then there's 'Tarzan's Nuts', with echoes of the b/w Tarzen theme tune, and a take on 'Swan Lake'. Yes really. My fave track is probably 'Rockin' In Ab', a rock'n'roll / r'n'b cover that will surprise many.
Yes a fantastic album. Genuinely.
Now we get to the extras. There are so many they fill a second disc, the first is bolstered by five promo videos that will play on your computer.
Disc two kicks off with four John Peel live recordings, and finishes with three live tracks from the Dance Craze LP (a real rare gem most fans won't even know about let alone have heard). Inbetween there are 11 further tracks, from demos, b-sides and flexi tracks to versions of 'One Step Beyond' sung in both Spanish and Italian.
Ska / pop this is, but the impact on release was astounding, as is the packaging on this release.
Relish, reminisce, enjoy.
*****
Review by Joe Geesin
---
| | |
| --- | --- |
| | Print this page in printer-friendly format |
| | Tell a friend about this page |