MADNESS The Liberty of Norton Folgate Lucky Seven (2009)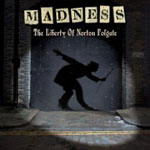 Madness return with their first new album in ten years and it is a concept album with a ten minute title track. Have Madness gone all prog? No but they have produced a fine set of tunes which will delight longstanding fans I am sure. The album is based on the various waves of immigration into London and the effect this has had on the music and lifestyle of the city. The album's best tune, 'We Are London' sums this up best as it takes a lyrical tour around the various cultural areas in London. Classic Madness really in a catchy tune, witty rhyning lyric and not too much ska influence to scare away the casual fan like me!
The single 'Dust Devil' is good fun as well with 'Rainbows' another song that will appeal outside their core fanbase. The ten minute title track is a mini-ska opera and with added strings and big production values shows the band are worthy of more than being remembered as a fun singles band with tunes like 'Baggy Trousers' or 'House Of Fun'. This album was previewed at the Hackney Empire where the band added various characters in the audience and created a music hall feel to the proceedings, which is really what this band carry on the tradition of muscial variety, albeit with a heavy ska influence.
Not an instant album in many songs cases but worthy of repeated listens and showing a band that have reformed not just to endlessly tour thier hits but are more than capable of writing new material to add to their fine legecy with this new album.
****
Review by Jason Ritchie
---
| | |
| --- | --- |
| | Print this page in printer-friendly format |
| | Tell a friend about this page |
***** Out of this world | **** Pretty damn fine |
*** OK, approach with caution unless you are a fan |
** Instant bargain bin fodder | * Ugly. Just ugly
get ready to rock is a division of hotdigitsnewmedia group