LYNYRD SKYNYRD God & Guns Roadrunner (2009)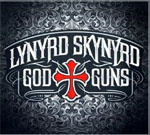 Lynyrd Skynyrd keep on rolling despite personal tradegies, the latest being the passing of original member and keyboards player Billy Powell and bass player Ean Evans, both earlier this year. In their place come the aptly named Peter Keys and Cry Of Love founding member Robert Kearns. This leaves Gary Rossington as last man standing of the band's original line-up although Ricky Medlocke was in an early incarnation of the band before going on to enjoy success with Blackfoot. They also have a new label in the shape of Roadrunner's heritage offshoot Loud & Proud (who also feature fellow 70's survivors Kiss on their roster). John 5 also contributes guitar on the album.
The album starts off with the best song 'Still Unbroken', written by another sadly late band member Outlaws founder Hughie Thomasson. This is classic Skynyrd as the lyrics deal with overcoming life's setbacks and still carrying on.
They certainly dig out their Republican views on the title track, a dig at the President Obama and 'This Ain't My America'. The lyrics may not sit well with some but will certainly hit a chord with the band's core US audience in the southern states.
The band's knack for a good story continues on the tale of a moonshine smuggler on 'Floyd', which Rob Zombie guests on and shows all the good things in the band including some top draw guitar solos.
'Southern Ways' and 'Unwrite That Song' see the band dip their toes once again into a country sound, but thankfully more Charlie Daniels Band than Dolly Parton!
For some no no-nonsense rock try 'Skynyrd Nation', the band's tribute to their fans and the triple guitar assualt really comes into its own on this one.
There are however a few duds as there have been on all their albums since reforming back in the 80's and this time around 'Storm' and 'Little Thing Called You' keep the skip button busy.
A solid album from the band, certainly one of their best since coming back but not the classic return to form some reviews would have you believe. For me a little more rock 'n' roll and a little less country would have been good.
***½
Review by Jason Ritchie
---