THE LOU GRAMM BAND The Lou Gramm Band
Frontiers (2009)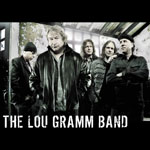 After his long recovery from a brain tumour and its after effects, it is truly heart-warming to hear legendary Foreigner singer Lou Gramm back in action and making new music again. His band is something of a cottage industry, featuring brothers Ben and Richard, and guitarist Don Mancuso who played with him in pre- Foreigner outfit Black Sheep .
He looks almost unrecognisable on the cover, but how is he sounding these days? To my relief, he turns in a respectable performance; the voice has lost some of its power, range and even character, but that is true of many of his contemporaries. The music does not stray too far from the Foreigner template, and though hardly earth shattering or original there are some decent tunes on offer, notably hard rocking opener Baptised by Fire which sounds like a Shadow King outtake and the Bad Company-esque I Wanna testify.
However a big health warning is in order - this is a Christian album in the most overt and in your face manner possible. At least half the album has an explicitly religious message, including a cover of Billy Prestonís Thats the Way God Planned It, and So Great whose gospel-style backing vocals and children chanting I found frankly nauseating. A decent album if the overt preaching does not put you off, but Iím afraid even as a massive Foreigner fan with respect for Louís courage and resilience it was a step too far for me.
**½
Review by Andy Nathan
10 Questions
---
| | |
| --- | --- |
| | Print this page in printer-friendly format |
| | Tell a friend about this page |