LONEY DEAR Dear John Parlophone/Regal (2009)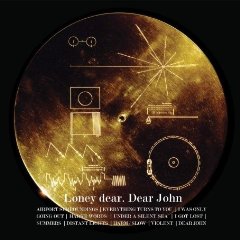 The accompanying PR blurb to Loney Dear's (aka Emil Svanangen) 'Dear John' album makes much of the former pro cyclist's search for perfection and the painstaking way in which he has approached his latest 'Dear John' CD. The album is in fact the concluding part of a conceptual 5 CD release. And in many ways there is a real feeling of intensity, a restless yearning and experimental ambition throughout a quite spellbinding album.
The sounds, songs and layered synth textures that colour 'Dear John' do indeed sound like the end result of an obsessive producer/musician shut away in his studio/bedroom in the frozen wastelands of Northern Sweden. Happily there is a creative balance that stops the whole album from becoming too doomy and drowned in self absorption.
Quite simply Emil is as much an intuitive producer as he is a deep and moving songwriter. Crucially there are enough brighter elements to counter every dark nuance acting as an uplifting counterpoint for every slid e into lyrical despair.
Where there is deep introspection in song such as 'I Got Lost' it is quickly counter balanced by something else. In this case 'Summers' provides the tension breaker, being a gentle ascending passage of music from the Brian Wilson locker which turns out to be is just as elevating as its predecessor is depressing. And when Emil does cast aside his demons as on the opening single 'Airport Surroundings' (an unlikely but brilliant single) and the insistent dance beat of the Pet Shop Boys/Kraftwerk influenced 'Everything Turns To You', he is capable of producing optimistic joyous pop, predicated on the back of some richly layered keyboard sounds and optimistic vocal sweeps.
Listen to the lush arrangement of 'Harsh Words' and you are listening to a maverick who co-opts the best bits of Coldplay and Arcade Fire to flesh out his own deeply personal lyrics. Further influences abound. You can take your choice from Radiohead, Nick Drake, Neil Young to Orange Juice, The Pet Shop Boys, Kraftwerk and inevitable Coldplay. But it is perhaps the lesser known figure of 80's techno/synth pioneer/producer Rupert Hine who should inadvertently take a bow.
Probably unknown to Emil, much of the contemplative lyrical style here as well as the synth colourisation and spacious arrangements that fill out 'Dear John' were explored by Hine in a batch of early 80s albums such as 'Immunity' or 'Distant Lights' the repeated operatic lines acts a perfect foil for another delicate piece of Nick Drake inspired angst, comprising voice, keyboard and percussion.
And if the same elemental vocal style on the very gothic 'Harm/Slow' is as uncompromising and beautiful as it is bleak - not to mention evoking both Jacques Brel's 'If You Go Away' and Albinoni's 'Adagio' - then he once again juxtaposes his darker moments with something a little lighter. In this case the uplifting arrangement of 'Violent' is reminiscent of Arcade Fire, with its layered choral voices, a feverish backing track and the emotive groans of Coldplay's Chris Martin. But comparisons and influences aside, 'Dear John' is a unique work of unbridled eloquence.
It is music from the heart, an album full of deeply felt meditations, an unfettered outpouring of the soul with occasional emotive sweeps. 'Dear John' is conceptually compelling, musically challenging and easily the best album of the year so far.
*****
Review by Pete Feenstra
---
| | |
| --- | --- |
| | Print this page in printer-friendly format |
| | Tell a friend about this page |