Just witnessed your best live gig?.. send us a review!
LIVING COLOUR
Highbury Corner, London 6 December 2009
On June 27, 1944, the former gothic Victorian beauty of Highbury Corner was obliterated by a German V1 flying bomb. The resulting nondescript redevelopment hardly restored the area to its former glory, although a few remnants remain.
The original Art Nouveau style entrance to the now-defunct Highbury Station stands proudly next-door to a large but lacklustre commercial property, whose large main space with arched ceiling was well suited to a car showroom and workshop.
In the 90s, the name remained, but the space was crudely refashioned into a warts'n'all music venue hosting both the up-and-coming and the past-their-prime.
Sunday night was my first return visit to the Garage, since the much heralded £3m descuzzification that saw the venue closed for 3 years, after over 10 years of hard partying.
I'm happy to report that they've done a pretty decent job of sprucing the place up, replacing floors by Bostik and toilets by Rentokill with formal endorsement by Coca Cola's Relentless 'energy drink'. You almost forget that you're on Holloway Road.
Some might complain that the corporate branding is a little in your face for a supposedly cool venue, but I can't say that I noticed. Then again, all I can see was bathed in gloriously vivid living colour for almost two hours.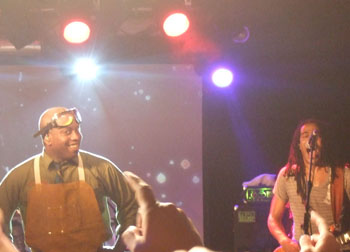 Celebrating over 25 years of genre-busting, sonic innovation with a political edge, the four guys, definitely not called Moe, tore the place up with an unpredictable but always compelling display of virtuosity.
In particular, guitarist Vernon Reid, whose relaxed and cheery manner belied a frantic and intense playing style that time has not diminished.
With a new album (the Chair in the Doorway - just buy, OK?) to promote, this was no lazy amble through the greatest hits, with over 6 new songs delivered in deserving style.
They also neglected their accomplished second album (1992's 'Time's Up'), preferring to focus on tracks from the excellent darker third album 'Stain'.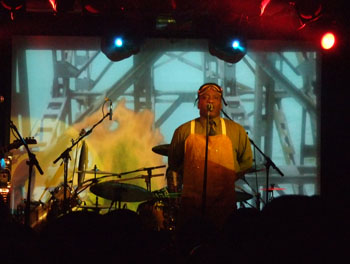 Sure there's Grammy and Gamer fave the uber-riffed 'Cult of Personality' and sarcastic confection 'Glamour Boy', but the vibe of gig was true to their original eclectic template, back when their East Coast steely urban funk was pitted against the Chilli's West Coast surfer punk.
They even delved into their tentative first come-back album (2003's 'Collideoscope') for 'Flying' a darkly ironic 1st person perspective of the WTC 'jumpers' on 9/11. Charming and disarming in equal measure and delivered with power and sensitivity by Corey Glover. If there was a song that ensured that you didn't confuse him with the singer from Slipknot, this was it.
Considering their individual capabilities, you might expect some degree of ego-driven competitiveness, but there was none. All I saw was collective passion and exuberance that extended to the 500+ in the packed forecourt.
Even the slightly-indulgent Will Calhoun drum solo, was fun, interspersed with triggered samples and hip-hop beats, only sleighbells could have made it more bonkers.
Then there was Doug Wimbish, who used his solo slot as an excuse to wander down to floor level to perform eyeball-to-eyeball to the people from the pit.
He started conventionally enough with some plucking fine tasty bass. Then with a flick of a switch, he'd scaled the octaves and was getting all Hendrix with screaming lead-lines seldom heard from a bass, culminating in the most rocking excerpt of 'favourite things' from 'Sound of Music'. Andrew Lloyd Shredder, would've liked that...
The show climaxed with the rather fine 'Elvis is dead' (sorry to have to break the news to you) segueing into a verse of 'Hound Dog' in deference to the King.
With a Sunday night curfew to contend with, the band had stayed on stage throughout the show and were clearly touched by the energy generated by the crowd; barely 10 minutes after the show finished, they were good on their promise to 'meet us all at the back and sign anything your got'. Which we did.
A great end to a truly technicolor evening.
Set-list (and source album) Ignorance is Bliss (S) Which Way to America? (V) Auslander (S) Burned Bridges (TCITD) The Chair (TCITD) DecaDance (TCITD) Go Away (S) Funny Vibe (V) Flying (C) Bi (S) Bass solo (inc Favourite Things) Drum solo (inc kitchen sink) Young Man (TCITD) Papa was a Rolling Stone (cover) Glamour Boy (V) Behind the Sun (TCITD) Bless Those (Little Annie's Prayer) (TCITD) ??? (either Type (TU)/Desperate People (V)) Cult of Personality (V) Elvis is Dead (inc. Hound Dog)(TU)
KEY Vivid (1988) Time's Up (1990) Stain (1993) Collideoscope (2003) The Chair in the Doorway (2009)


Review and photos by Andy Rawll
---