LITA FORD Wicked Wonderland earMUSIC (2009)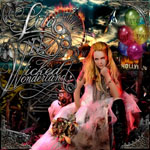 Whilst it's good to see Lita Ford back in action this new release may confuse somewhat. Since the trailblazing female rockers The Runaways - back in the mid-1970s and at the age of 17 - Ford has flickered from harder rock to more radio-friendly fare, and therefore never really achieving consistency. What we do have is a clutch of crossover pop-metal hit singles (including a duet with Ozzy - 'Close My Eyes Forever' - in 1989).
Unfortunately, 'Wicked Wonderland' (her first solo album for over two decades) isn't going to correct this. It's raunchy, with a healthy aroma of leather and lust, but the music is fairly mundane hardcore metal fused with punk - a result of her collaboration with partner Jim Gillette (of the band Nitro).
Opener 'Crave' is the standout and bodes well but by the end of this aural assault, the listener will frankly be worn out. Which is presumably how Lita feels as the tracks document a somewhat smouldering relationship with Gillette. This is maybe a good case for not mixing business with pleasure. "You're So Erotic" she hollers on 'Scream For Me'. "Feel me, feel me inside" he hollers on 'Inside'. "Oooh missus" we holler, as we press the eject button.
Gillette provides vocal back up throughout but he would have been best left twiddling his knob behind the mixing desk.
Only 'Sacred', a slow wah-wah inflected post Grunge ballad redeems things mid-album - probably because it is not so overtly gagging for it.
Elsewhere, the song titles "Love", "Bed" (all 6:51 of it) and, er, "Push" tell you where all this is going. (In the real world - if there is any justice - it will be straight to the bargain racks).
If this album was made in 1975 it may have caused ripples, but then only amongst those pubescents who had a copy of 'Mayfair' shoved down their underpants.
**½
Review by David Randall
Stuart Hamilton profiles The Runaways/related on Get Ready to ROCK! Radio on Sunday 13 December.
---
| | |
| --- | --- |
| | Print this page in printer-friendly format |
| | Tell a friend about this page |