Just witnessed your best live gig?.. send us a review!
LEAF HOUND
Music Bar, Brighton, 4 September 2009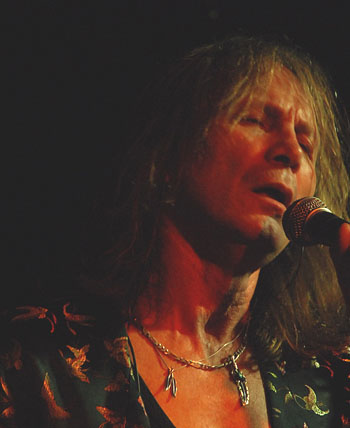 After witnessing their impressive set at the recent Cambridge Rock Festival, I decided to make the trip down to the seaside resort of Brighton to see Leaf Hound play a gig at the rather intimate and oddly named Latest Music Bar. Just a stone's throw from the seafront, this is a great little venue which had great acoustics with an in-house soundman who gave the band a crystal clear sound.
For those of you not initiated with Leaf Hound, the band first released the LP 'Growers Of Mushrooms' on the Decca label way back in 1971, a year after they actually split. Singer Pete French went on to join Atomic Rooster and later Cactus, and the album was forgotten in the depths of time until years later when many critics were raving about the debut citing it as the best album Led Zeppelin never made. Q magazine quoted it as the most collectable rock album ever, and recently a copy sold for £2,700 on auction site Ebay.
Which brings us to 2009, only Pete French remains from the original line up, but has amassed a band that bring full credit to the Leaf Hound name that is talked in hushed tones amongst connoisseur rock fans.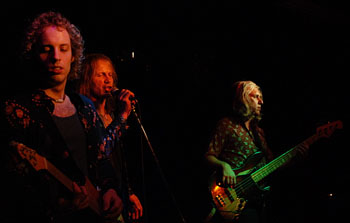 Featuring aspiring guitarist Luke Rayner, who has a great future ahead of himself, the band first played a few numbers from their critically acclaimed second release from 2007 'Unleased' . An album released 38 years after the first album, when the young guitarist wasn't even born.
The newer songs are more in the Bad Company vein and are a little more polished, but no one can argue with the quality of songs like 'The Man With The Moon In Him' where Luke Rayner excells himself with a transcending solo. Pete French is one of Britain's best kept secrets, with his bluesy rich voice, who should be mentioned in the same breath as Paul Rodgers or an early David Coverdale.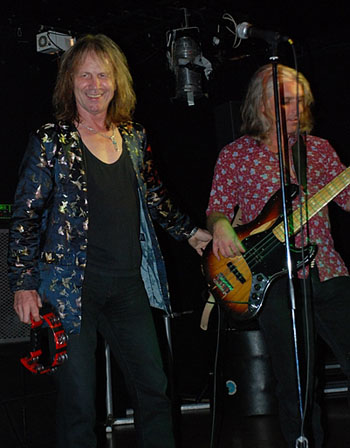 'Sad Road To The Sea' was interpreted from the 70's original ,which was improved greatly with a thumping mid-section bass line from Ed Pearson. 'Freelance Fiend' has a great riff that cuts right through you. 'Too Many Rock'N'Roll Times' another newie sounds a little like Eric Claptons 'Crossroads', but you can't deny liking this rocking number.
Pete French stated that the band only play original songs, but they do play a track that the singer originally performed with Atomic Rooster, 'Breakthrough' a track that Leaf Hound have newly recorded was magnificent.
I was disappointed at the Cambridge Rock Festival when the band had run out of time to perform the title track from that first release, but tonight it was performed in all it's glory. The fans that had made the journey here tonight, many from London, were treated to a quality night out.
Review by Mark Taylor
Photos by Lynne Saunders