LATER WITH JOOLS HOLLAND Live 2 (2009)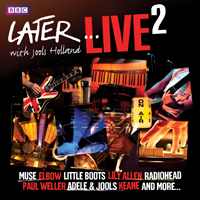 Imagine, it's Friday night. You've been to the pub. Had a skinful. You get home and Holland is on TV. While he's twittering between guests, you decide chips are the order of the day (with a healthy side portion of bread and ketchup).
You put the chip pan on, then Holland introduces someone interesting...
You wake up the next day in A&E. Its worse case scenario - your pad is toast, your beloved vinyl a congealed puddle, and worse still your iPod and and iTunes library have been hard baked.
So just where do you start in rebuilding an extensive back catalogue? An almost impossible challenge. When you do your first upload onto your new iPod Classic, you want a bit of variety. You want to appear sophisticated, and not some sort of a nerd.
Which is where Holland lends a helping hand. Reflecting the show, Live 2 is an eclectic mix of some 34 songs. Something for everyone, everything for no one. Unlike Live Lounge where you do, at least, get some interesting covers and alternative versions, the Live format is geared to showcasing new material. So by and large you get 'live' versions of recent releases.
It's pointless highlighting tracks, as everyone's favourites will be different. But it covers all bases from Glen Campbell to Muse, from Hot Chip to Little Boots, and from Seasick Steve to New York Dolls. Sadly, two of the best tracks do feature Mr Insufferable - To Make You Feel My Love (with Adele) and I Went By (with Louise Marshall).
Perfect for the Christmas stocking of someone whose musical tastes you've no idea of. And the moral - don't cook chips when you're pissed. Or if you must, make oven chips. And more importantly keep an iTunes library back up off site.
***
Review by Pete Whalley
---
| | |
| --- | --- |
| | Print this page in printer-friendly format |
| | Tell a friend about this page |