Just witnessed your best live gig?.. send us a review!
LAHANNYA The Purple Turtle, Camden, London
27 November 2009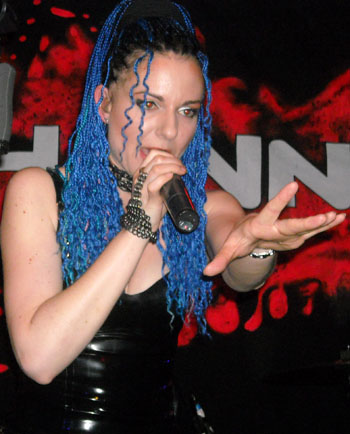 The Purple Turtle was playing host to an interesting combination of three female fronted bands tonight, each with their own identity.
The Mariana Hollow opened up proceedings with their gothic metal. Slightly different from a lot of female fronted metal bands these days, this was melodic metal sang in a gothic style where the vocals by Rebecca Spinks reminded of Siouxsie Sioux from The Banshees. Promoting new CD 'Coma Heart' The Mariana Hollow are a band I would like to see again.
Lilygun may not appeal to readers of this website but for the open minded of you Lilygun are a name to remember. This London based band played a unique set consisting of songs that lay somewhere in between Sonic Youth and the tender moments of Bjork.
Led by guitarist/vocalist Anna-Christina, the band played grooves that took you on a rollercoaster ride of musical emotions. Helped along by the percussion of Robin Guy (A man who lives up to the mantle of 'Have drum,will travel', who told me this was his fifth gig in five sucessive nights with different bands. Surely deserves the big break with one of the big boys.).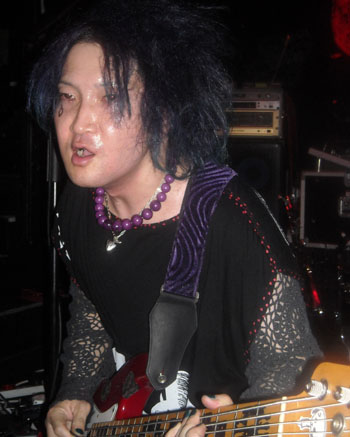 The spotlight was taken from Anna-Christina sometimes by her side kick, the Japanese bass player who goes by the name of Piranha. Judging by his fashion sense this man would do well selling alternative clothes at a Glastonbury stall. This man puts Brian May's clogs to shame, and where did he get those trousers? It's amazing what you can do with an old sack. I want a pair. He nearly fell over twice but without missing a beat. A talented bass player.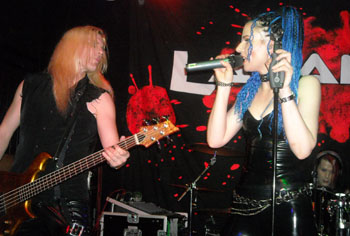 What brought me out on this Friday night was Lahannya. I had a chance conversation with Lahannya after a recent Alice In Chains gig and said I would come down and check them out. Already with a growing following in Germany, Lahannya were back on home soil and playing to smaller audiences.
Promoting the newly released 'Defiance', Lahannya are something from the future of an android age, looking like they belong on the Matrix. Lahannya herself is centre of attention in her black PVC latex and her long curly blue hair which puts my blonde highlights to shame.
The band themselves look like a bunch of post Armageddon misfits.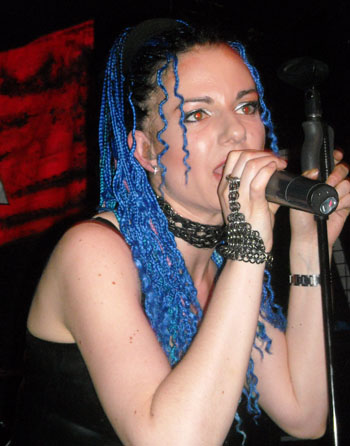 Musically sounding like a industrial melodic Marilyn Manson with some chunky bass lines from Lutz Demmler and some crisp guitar work from the hippy looking Chris Milden. With one time Killing Joker Belle on drums, Lahannya has got herself one very tight band.
Lahannya dosn't take herself too seriously which is a good thing, more focused on her fans having a good time. With some good songs such as 'Dying Inside' the slowie 'Kill Me If You Care', 'Burn' and the infectious 'Inside The Machine', now is the time to take notice of this band before they get accepted by the European mainstream.

Set list : Dying Inside / Sick & Tired / Charades / Welcome To The Underground / Kill Me If You Care / No Tomorrow / Bleed For Me / Our War / Interference / Open Your Eyes / Inside The Machine / Burn / Doors

Review and photos by Mark Taylor
---