KILLSWITCH ENGAGE Killswitch Engage (KsE) Roadrunner (2009)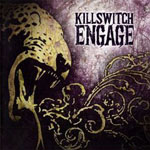 Killswitch Engage (KsE) got our attention back in 2004 with the release of "The End of Heartache" which made it to number 21 in the USA billboard charts, was nominated for a Grammy Award in 2005 and a live DVD was released setting up their well known Festival appearances all around the world. This is the fifth album release from melodic metal core 'KsE' and it has a lot of hype to stand up to!
For me 'KsE' are indeed a fully fledged damn decent metal band that put on a pretty fine live and immense show, but the albums never seem to do them justice in the same way. Until now.
'KsE' front man "Howard Jones" is an idyllic front man when on stage - hard gritty intense vocals with the addition of beautifully sung quiet parts. I am glad that his hard felt intense live vocals have now finally made an appearance on an album. Check Out track 8; "I Would Do Anything", anger processed into music at its finest!
We have the usual solid and head banging guitar solos, the usual hard hitting drums that 'KsE' continue to pump into our veins in the usual 'KsE' style; with a little bit more of a pop feel; but for me this album stands out more due to the hard hitting and hard felt vocals, that gives it that little bit more an edge than their previous albums. When you can sing, head bang and be emotional at the same time - you can't go wrong!
Until now, I haven't really bothered with any 'KsE' albums as they did absolutely nothing for my juices unless I see these guys live; which is always most awesome and shouldn't be missed. But this time around, I think I will be finally putting the CD in my Car and start to learn the words, learning the words can be a hard task for metal, but Howard makes it easy.
Big thumbs up for any metal fan and a recommended release from Me!
****½
Review by Fluffmeister
---
| | |
| --- | --- |
| | Print this page in printer-friendly format |
| | Tell a friend about this page |