KICKHUNTER Little Monsters Rockphone RPR 10003 (2009)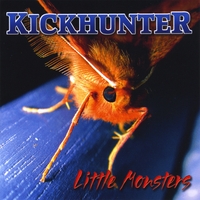 German band Kickhunter, sound like an early 70's UK hard rock outfit crossed with a Midwest Classic Rock band with southern fringes to their booming choruses. 'Little Monsters' certainly rocks from the off in a post Motorhead kind of fashion. But they being far greater tonal colouration to their material with an earthy Hammond driven wall of sound topped by Jorg Wesenberg's gruff Lemmy vocal style. But this is no one dimensional Heavy Metal album.
Led by the talented band leader/guitarist/song writer Stefan Aurel, Kickhunter also feature Helloween founder member, producer and bass player Markus Grosskopf and are best classified as Heritage Rock. For 'Little Monsters' is an album with broad appeal taking in Hard Rock/Soft Metal, Melodic Rock, Southern Rock and Classic Rock with good songs to boot.
There's an undoubted commercial undertow to a cross-over style that neatly offsets some hugely infectious grooves, double guitar runs and booming choruses. In between the intense guitar work of Rollie Feldmann and Stefan Aurel and some searing bv's from Ela, there are some smartly arranged but derivative rock ballads such as 'Heaven Knows', which evokes Clapton's 'Wonderful tonight'. But don't let that put you off as the band are more accurately represented by the wah wah inflected, Hammond driven pounding boogie and sing-along chorus of 'Ain't Got Nothing Better'.
Overall there's enough powerful good time rocking and crunching riffs as on 'Walls', and the Hammond and guitar reprised sound on 'King of Life' to please any self respecting rock fan.
If you think of the rockier end of Thunder, the punchy choruses of Whitesnake, the earthy Hammond driven power of Uriah Heep and early Deep Purple and throw in a few sweeping choruses, you get close to Kickhunter's style.
Former 'Melodic Rock Producer of the Year' Dennis Ward adds a telling pair of ears to the Stefan Aurel's efforts and Aurel himself is responsible for the cleverly rearranged 'Roll Over Beethoven' which starts with an unlikely acoustic intro and builds to a guitar frenzy. Clocking in at just under an hour's worth of hard rocking melodic kick ass boogie, the CD is nicely topped and tailed by the slide led boogie of 'Pimp Up Your Life'.
Kickhunter are a band who have apparently played on several of Europe's biggest biker festivals and have also been well received on tour dates with Deep Purple and Skynyrd. And all things considered 'Little Monsters' might just be good enough to provide the band with the necessary stepping stone to finding their own niche.
****
Review by Pete Feenstra
---
| | |
| --- | --- |
| | Print this page in printer-friendly format |
| | Tell a friend about this page |