JOHN LONG Lost & Found Delta Groove DGPCD106 (2009)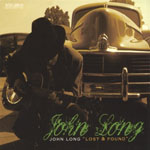 John Long's 'Lost & Found' is a worthy addition to the Delta Groove catalogue, a label that is fast becoming the home for some of the most authentic and impressive old school blues artists around. And it is old school we are dealing with.
For although John Long isn't yet old enough yet to be considered a Country Blues veteran, he has spent the best part of 30 years learning his trade, if not recording a down home style that is as real and down to the bone as his lifestyle that has supported his life long passion.
As the liner notes by blues catalyst Al Blake make clear, John Long is both a 'national treasure' and he may be 'the best post-modern old school bluesman working today'. I'd argue the point possibly by looking in the direction of Samuel James and the more gospel based crossover style of say Eric Bibb, but what is certain is that John lives the part and sings with raw gut emotion; His guttural almost mumbling style has a plaintive quality that brings real emotion to a series of real life narratives on pre-war blues style outings.
He opens with some lovely acoustic slide on 'Hokum Town' and adds some pithy harp to embellish his metaphors on 'Pressure Cooker('Bout To Blow)'. And as the liner notes also mention, John's self penned songs - 'Hells Kitchen' being an example - do indeed sound like pre-war blues standards.
This point alone can be both a positive as much as a hindrance, for while John impressively mines the down home blues genre, he is not averse to thinly rewriting existing standards with new lyrics. Listen for example to the guitar/piano driven 'Stranglevine' which evokes 'Key To the Highway', but then didn't Peetie Wheatraw do the same all those years ago? No matter, John's most impressive moments come on the stripped down stuff like 'Foot Stompin' Daddy' and the lovely bluesy vocal slur of 'Mean Ole Rootin' Ground Sloth', on which he phrases the blues just like he's got 'em.
He's certainly not one dimensional either, adding some brief gentle swing of the harp-led instrumental 'Johnny' Jump', and he further plays some lovely bottle neck guitar and builds up a lovely momentum on the travelling blues of 'Greyhound Driver'.
Apparently the whole of the album was recorded in one solitary day, but when you've waited sole three decades to record in your own right, you don't hang around. 'Lost & Found' is impressive in both its playing as much as its intent. The album doesn't so much pose the question as to whether blues can still be authentic, but inadvertently asks what exactly is the contemporary market for down home blues? 'Lost & Found is the real deal and John Long ticks all the right boxes and almost inadvertently provides the answer as to the function of the blues in the title of the excellent 'Healing Power'. Acoustic based down home blues will always be with us, but the real question is how many people still appreciate the real thing. This album should provide a few answers.
****
Review by Pete Feenstra
---
| | |
| --- | --- |
| | Print this page in printer-friendly format |
| | Tell a friend about this page |