JEFF SCOTT SOTO Reissues Frontiers (2009)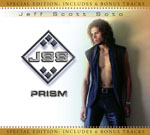 During a peripatetic career encompassing singing for Yngwie Malmsteen, Talisman, Eyes, Soul Sirkus, a brief spell in Journey and a whole host of others, Jeff Scott Soto remains one of rock's cult figures, not widely known but commanding a loyal fanbase for those in the know.
Hopefully their number will grow as Frontiers Records follow his new Beautiful Mess opus by re-releasing two of his solo albums from 2002 and 2004 respectively.
Despite opening with Eyes of Love in the swaggering hard rock style of Eyes and Talisman, just two of his many former bands, Prism is as close to mainstream AOR as he ever got. Heaven Knows features strings, while there are not one but three masterful power ballads in Don't Come Easy and Don't Wanna Say Goodbye and Holding On, led by piano with powerchords and big backing vocals crashing in on the chorus.
The funky I wanna Take You Higher features guest screams from the master of the genre Glenn Hughes, 2 Late 4 Goodbyes is another melodic moment and Till The End of Time shows the signs of Jeff's love of Queen in the vocal arrangements.
The album tails off later on but the first seven or eight tracks are essential listening. The five bonus tracks to the dozen originally on offer include two live songs, one the Rock Star theme Stand Up and an authentic version of Send Her My Love which if you didnít know better could have been a Journey audition. ****½
On the follow up Lost In The Translation, Jeff went more for the straight ahead muscular hard rock style for which he is more known, but to equally impressive effect. The stirring Believe In Me which opens the album is reminiscent of Journey's more up tempo numbers, while live favourite Soul Divine and Drowning are among the songs that allow guitarist Howie Simon to really let rip.
Find Our Way, On My Own and High Time are other highlights, all being top class slices of melodic hard rock, but excellent ballads are still present in If This Is The End ( reminiscent of Send Her my Love) and the dreamy Beginning 2 End.
The album could possibly do with a tad more variety but is arguably stronger than the all star Soul Sirkus project that followed. The bonus tracks are mainly acoustic numbers from a variety of sources including one of his Takara songs, Lonely Shade of Blue. ****
Take these two as a package and you will get a good idea of the man's talents, and they will whet your appetite for his all-action live act which is even better!
Review by Andy Nathan
---
| | |
| --- | --- |
| | Print this page in printer-friendly format |
| | Tell a friend about this page |