Just witnessed your best live gig?.. send us a review!
JEFF BECK/Imelda May
London Indigo O2, 21 September 2009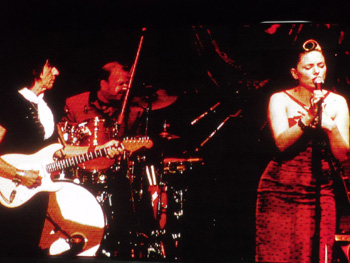 Tonight was a tale of two journeys, the first being my journey here to the Indigo which is situated inside what was originally called the Millennium Dome. The smaller of the two venues here. With the prospect of seeing one of the most exciting guitarists to ever come out of this country performing along with new rising star Imelda May, I knew I was going to be in for a classy stylish evening. So one does not travel on the tube to here, with all the riff raff dear boy. My friends and I travelled from Waterloo along the Thames on the Clipper with fine wine in hand and good conversation. A splendid way to travel.
The second journey tonight was the one that Jeff Beck was going to take us on, all the way back to the 50's. An age when a young Beck was most probably keeping his parents awake with his new found love of rock 'n roll, trying to learn his new six string to recreate the sounds that were coming out of the radio.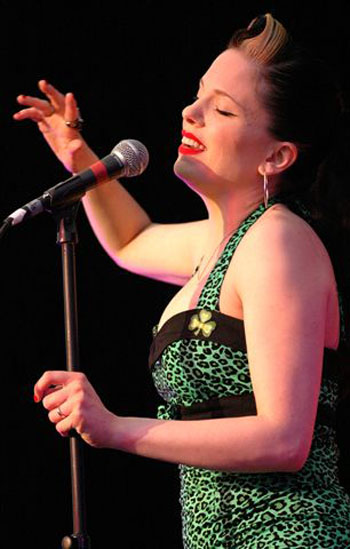 Photo by Lee Millward
Imelda May is a young Irish singer who along with her band are causing a stir at the moment with their rockabilly Latino sounding new CD and at first I thought this gig was to be mainly their set with Jeff guesting along. As it turned out I was to be surprised as Jeff Beck took us on a trip down memory lane.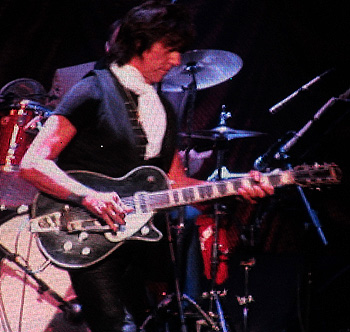 The first rocker to inspire Beck was Gene Vincent especially his guitarist Cliff Gallup and with that we got a double helping of 'Cruisin'' and 'Double Talking Baby'. Tracks that Beck later recorded for the Big Town Playboys project.
We also got Johnny Burnett's version of 'Train Kept On Rollin' ,a song Jeff later did with the Yardbirds.From then on Beck took us on a history lesson.
Vocals were individually shared by Imelda May and her husband guitarist/singer Darrel Higham revelling the chance to take centre spotlight for such a unique gig with the maestro.
Jeff Beck strapped on his Stratocaster and rightly paid homage to Hank Marvin and the Shadows, saying they were an inspiration to many young guitarists, and then performed one of the greatest riffs ever: 'Apache'.
Howlin' Wolf, Elvis also got an airing, songs from the 1956 influential film 'Girl Can't Help It' got us jiving, the only time to take a breath was a beautiful ballad of Jeff Buckley's 'Lilac Wine' with Beck's weeping guitar and May's honey voice getting great applause.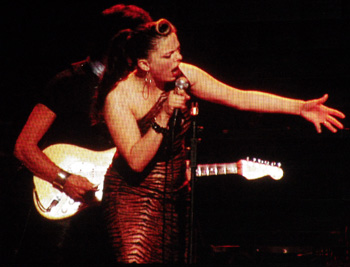 Some of my favourite highlights were the stonking instrumentals of the 'Peter Gunn Theme', made famous by the Blues Brothers film - this was the heaviest version I've ever heard - and 'Green Onions' with the sound filled out by the horn section, marvellous stuff!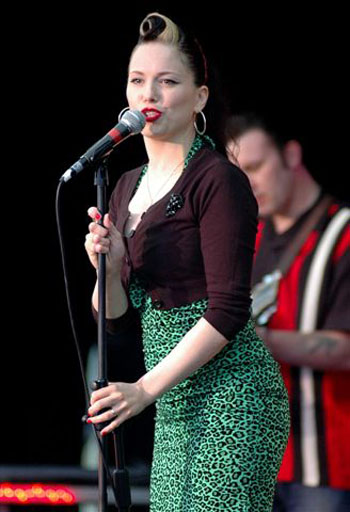 Photo by Lee Millward
Bill Haley and the Comets got the double treatment with 'Rock Around The Clock' and 'Shake Rattle And Roll' with Darrell Higham looking the part and enjoying himself so much you'd think he would start a Comets tribute act.
The last song was the instrumental 'Somewhere Over The Rainbow', a track that even Ritchie Blackmore wouldn't dream of touching these days Also applauding up on the balcony just in front of me was Jimmy Page and Ronnie Wood who had earlier declined the offer of joining Beck on stage, but they most probably didn't want to be upstaged.
A truly momentous evening, which wasn't even filmed for DVD. You really had to be there.
Review and photos by Mark Taylor, except where indicated.
---