JACKIE LOMAX The Ballad Of Liverpool Slim...Plus
Angel Air SJPCD291 (2009)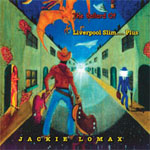 "Jackie Lomax" is considered to be one of the best white Soul/Rhythm & Blues voices/songwriters to have emerged from the 60's and 70's. Not to mention that fact that he was the first artist to be added to the "Beatles" then new label 'Apple Records' and his debut single 'Sour Milk Sea' was written by "George Harrison". "Jackie" also first appeared with 'The Undertakers" in 1962 taking over the bass guitar and lead singing.
Following the demise of 'Apple Records' he joined bands 'Badger' and 'Balls' as well as releasing two acclaimed solos albums; one entitled "The Ballad of Liverpool Slim" in 2001 which was never released in Europe, hence it's release here with two bonus tracks.
After reading the very informative 12 page sleeve notes written by "Pete Dicks (Beatles and Beyond)" this Dude has certainly had a mega interesting career and has certainly given me a hype to listen to this album.
So I've got my blues head on, I am sitting back, relaxing and 'Jackie's voice is silky making feel a bit....well....sexy I suppose! Wow, the hype I raised myself has indeed not been knocked.
Strangely, even though I have not heard 'Jackies' work before, I think I have heard this before and thinking back (and if my memory serves me right) I remember hearing one of the bonus tracks on a Sunday radio show whilst my Mum cooked Sunday roast when I was a 'wee lass'.
Pure Soul/Rhythm & Blues at its finest and not depressing at all. Beautifully sang, groovy guitar work, aptly placed brass work, keyboards and a 'get on your groove' style funk; making me click my fingers and softly nod my head to the inspiring sound.
I really do like this album and I really wish I could now go and attend a proper Soul/Rhythm & Blues club with big fat cigars and whisky drinking cowboys.
Check it out now!
****½
Review by The Fluffmeister


£12.99
© 2009 Angel Air Records. All rights reserved.
---
| | |
| --- | --- |
| | Print this page in printer-friendly format |
| | Tell a friend about this page |