JACK BRUCE & ROBIN TROWER Seven Moons Live Ruf Records RUF1151 (2009)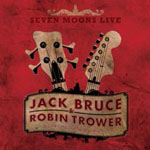 Aside from being a live re-statement of their impressive 'Seven Moons' studio collaboration, you can't help but feel this CD/DVD is an unspoken statement of the return of Jack Bruce to full health. Certainly his gushing welcome to the Dutch crowd - 'how nice to see you, beautiful, what a lovely vibe, thanks for coming' seems heartfelt and the band work hard to repay the crowd's expectation from the opening title track onwards.
This is an advance live CD version of the forthcoming DVD of the same concert with Jack enunciating his usual oblique vocal style alongside his muscular bass lines, while Robin Trower in turn announces his arrival with an edgy sounding wah wah solo.
The interesting thing about this project is that 27 years after their last collaboration, Trower and Bruce are actually writing songs together. The material is solid if not spectacular and could probably have done with a bit more road testing before being recorded live.
According to Jack, the original album came together quickly comprising first and second takes and the material does sound very loose, as is the case with 'Lives of Clay' on which the opening verses seem to be waiting to be rescued by a Trower solo. And while Robin opens the following 'Distant Places of the Heart' with a cool groove and Jack adds his poetic lyrics with great deliberation, it isn't until a reprise of 'Sunshine on Your Love' with its jammed out end section with Gary Husband's flailing cymbal splashes and thunderous stick work that the band really catches fire and the crowd responds in kind.
This seems to be borne out by Bruce's subsequent comment to the crowd, 'now we're beginning to get somewhere'. But as with much of this album the following track 'Carmen' although featuring a manful vocal line from Jack suffers from being too similar paced to what's gone before.
And if there's a criticism of this well-intentioned album it is that in some respects both Jack and Robin are too deferential to each other: you get the feeling that on any of these tracks the trio could musically explode at any time, but for the most parts it's an 'after you scenario'.
Funnily enough when you recall Bruce's BBM's attempt to be what Cream would have sounded like years later, the same aim can in part be attributed to this project, albeit Trower is a very different guitarist from Clapton. But the material is rooted in the same late 60's rock/blues genre.
On 'So Far To Yesterday' Trower evokes a Hendrix tone and Jack sings superbly well, but it's a shame the recording wasn't possible several dates into a tour as the band is just starting to cook as the number finishes.
For the rest, the trio work up a welcome funky groove on 'Perfect Place', with Robin adding further wah wah flourishes. Jack adds some bitingly humorous irony on 'Bad Case of Celebrity', which although raising a smile is just the wrong side of a dirgy blues, though Robin does add a full toned sinewy solo. Again given a full blown tour this is one of the songs that could grow exponentially.
In fact one of the highlights of the new material is the up tempo 'Come To Me' which suggests the band have it in them to light that missing fuse. Gary Husband's pounding drum pattern drives the band forward alongside Jack's fluid bass lines and you can actually feel Robin leaning into the groove biding his time before he can add his own colour to the proceedings. In fact it sets up the band for a big finish with a brace of Cream favourites.
But in the context of the future, 'Come to Me' undoubtedly sets the standard. And while '7 Moons Live' might take a few repeated plays before you begin to hear the trio's rich potential being realised, you need look no further than the 4 minute mark of this song to hear the band smoking and offering plenty of optimism for the future.
***½
Review by Pete Feenstra
Interview
---
| | |
| --- | --- |
| | Print this page in printer-friendly format |
| | Tell a friend about this page |