THE INTERNATIONAL CLASSIC ROCK ORCHESTRA Classic Rock Decca/Universal 4763397 (2009)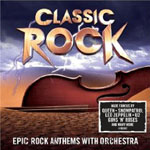 Musicologists James Morgan and Juliette Pochin have brought a new twist to orchestral interpretations of classic rock standards.
By analysing each singer's voice on the original track they have carefully matched them to an orchestral instrument. So Liam Gallagher ('Don't Look Back In Anger') becomes a trumpet and Chris Martin ('Fix You') becomes a musical saw. Sorry, I made that last one up. He is a French horn.
If you can just enjoy this collection for what it is - orchestral rock - then you probably don't need the master class in acoustic technology.
I am not sure, though, who will be the target audience (rock or classical?) and it could remain something of a curio.
Some may find the selection predictable such as Wings' 'Live And Let Die', Zep's 'Kashimir' and Queen's 'Bohemian Rhapsody'. It's all precision played, with a core rhythm/rock section of Swedish session players, but perhaps lacking passion in places.
Orchestral versions of rock can either reinterpret, play it straight, or add a new dimension. The 'Fourier analysis' may be lost on most and whilst attractive in execution, Morgan and Pochin's arrangements play it safe.
In fact, this is almost a modern-day James Last Orchestra. And if you don't know who he is, just Google "bland populist German orchestral maestro". No luck? Then try "German big band orchestra with strings". Failing that "test disc for Dad's radiogram".
***
Review by David Randall
---
| | |
| --- | --- |
| | Print this page in printer-friendly format |
| | Tell a friend about this page |