HOURGLASS Oblivious To The Obvious 2-CD (2009)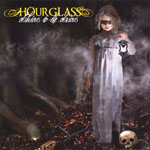 Epic progressive metal from Utah. Two CDs, nearly 140 minutes, and only 10 songs. That's Epic with a capital EPIC!
The moods here are varying, and from the outset, the opening bars of 'On The Brink', you know you're in prog metal territory. Chunky guitar riffs and intricate keyboards, and some operatic vocal harmonies. The bass and piano work stands out on 'Homeward Bound', and there are influences of Marillion and Dream Theatre.
'Pawn II' opens with some Spanish guitar, before the piano and chunky bursts of guitar come in. The sound and pace chops and changes a lot here, with bursts of 80s and 90s King Crimson. 'Faces' features a long segment of just vocals and piano, which varies well from the heavier metal parts of the album.
Disc one ends with the lengthy (21 minutes) '38th Floor', and opens with some fast guitar picking.
The concept and sounds continue on disc 2, with the closing title track running out about 30 minutes.
Largely excellent, but far too epic to be gripping.
***
Review by Joe Geesin
---
| | |
| --- | --- |
| | Print this page in printer-friendly format |
| | Tell a friend about this page |