Just witnessed your best live gig?.. send us a review!
HELLFIRE FEST 2
Birmingham NEC 6-8 November 2009
Having been to many outdoor Festivals and a couple of indoor, I was interested to see how Hellfire would fair against them - unfortunately it started badly as they didn't have our passes for us when we arrived, so we had a walk round to see were the Stages were!! It was very strange to have a Rock festival on at the same time as Cooking and Craft exhibitions but we soon scared civilisation!

I must admit that at first I wasn't impressed with the layout but as the day wore on and more Metallers arrived the vibes were building.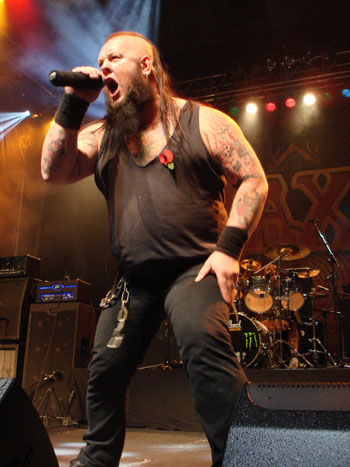 We decided to look in on the Music Live Exhibition and apart from a vast array of musical instruments we met up with a few old friends mainly the guys from Beholder - who were playing later in the day.
Also whilst visiting the Exhibition we met up with the legend that is Scott Gorham, all I can say is what a gentleman, he spoke to everyone on a one to one basis and even asked me what type of motorbike I had.

Okay then let's get down to the nitty gritty and the Bands - first off we saw the mighty Beholder, now I must say that they were awesome except that they were not on for long enough - the tracks they did perform were the normal beholder no holds barred metal mayhem blasting out from a band that you can see love to be there - they played the title track from the highly anticipated album - 'The Awakening', which is due for release on 1st December 2009 - a firecracker of a track and I cannot wait to get the album to hear the rest.

Blaze Bayley was someone I had heard of but never seen and was very impressed with his stage presence and the whole performance - check him out.
During the rest of the Saturday we took in the feel of the festival until the main two bands we wanted to see - first up is a band that everyone raves about but apart from the odd track I haven't heard a lot of, and that is Anvil.

All I can say is that they blew me away - these days it is refreshing to see a band that love being on stage and from start to finish they were in their element - although I didn't know the tracks they are the sort of band that pulls you into their world and they one me over hands down - after their performance I went back stage and spoke to Lips about it being the first time I have heard them and how they hooked me - credit where credit is due!!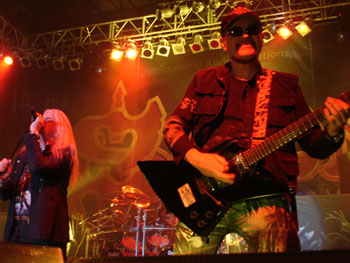 Next up was the brilliant Saxon, now I have seen these four times this year and every time they play to the crowd and pull out the favourite tracks of yesteryear mingled with the new and put on a performance to light up any venue they play at.
Biff plays to the audience in a way no one else can whilst belting out the tunes - musically and vocally still as good today as they were way back when I was a lad!!

This festival is a 2 day event but unfortunately I was unable to make the second day but having spoken to contacts both from bands, Radio and the music industry- I missed another treat of a day with excellent performances from the likes of Xerath, Viking Skull, Katatonia and Fields of the Nephilim.

So all in all - this shouldn't have worked, having Metal mixed with exhibitions for craft, cooking etc and although it was very slow at the start as night fell the Metal onslaught had won me over. It's a pity that the ticket sales for this event were so bad, as there were quality performances throughout the days on all stages.


Review and photos by The Unforgiven
---