Just witnessed your best live gig?.. send us a review!
HEAVENS BASEMENT/DEAR SUPERSTAR
Camden Underworld, London 18 December 2009
Photos by Noel Buckley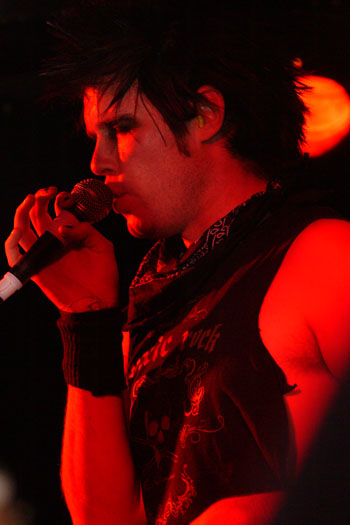 Christmas had come a week early for some fans as three of the best upcoming British rock bands graced us with a show that will be remembered for a long time and hopefully will go down in the rock annals.
Three hard working bands that really do deserve the all exposure that they can get. This was the last night of a UK jaunt and it's party time.
Many are here to see headliners Heavens Basement who have pulled a mixture of old and new faces, but I was surprised by the amount of young excited females getting their first taste of brat boy rock n'roll. Such was the buzz the bands were offering tonight.
South East rockers New Device had the task of warming up the masses first.The band have been playing some noticeable support slots recently and were on a perfect billing tonight.With their modern day high energy rock 'n roll New Device will soon be 'Taking Over'.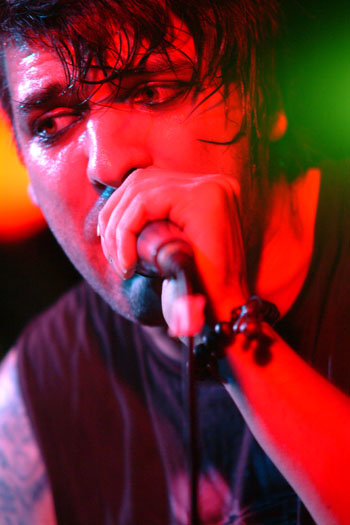 Dear Superstar had to be good to follow that and also to live up to their godlike name. Hailing from Lancashire, the boys stormed onto the Underworld stage in fine fashion ripping through a forty minute set.
The band blend a mix of Funeral For A Friend with the grit of 80's metal Skid Row with the party antics thrown in too. English born/Asian background singer Micky Satiar oozes confidence and swagger on stage and could soon be a pin-up for a new generation.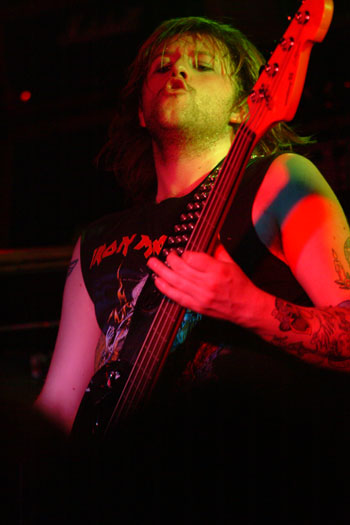 Boyhood pal Adam Smethurst delivered some crunching riffs. New song 'Her Greed My Vanity' showed the shape of things to come, but it was 'Brothers In Blood' that bonded with the audience tonight.
The earlier managerial problems of Heavens Basement seems to have fired up the band to the point where they are ready for a bout with Mike Tyson.
Every time i've seen this band over the last couple of years ,they just get better and better, and why they are not already on bigger stages is beyond me, but I hope the band will not give up, and they will beat the opponents into submission.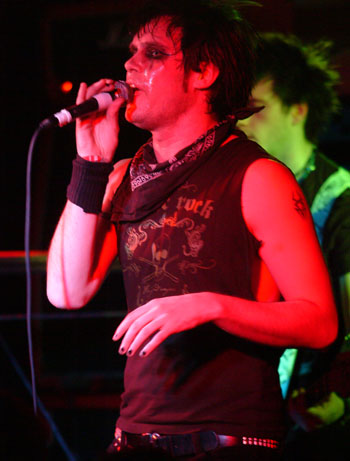 Opener 'Tear Your Heart Out' does exactly what it says on the tin, raising the roof off the Underworld. Singer Richie Heavanz, now looking punky and manic, also tears his lungs out on this opening track. Former Whitefire bassist is now a fully fledged member and plays his part well on 'Can't Let Go'.
The band have crafted their sound to the point now that Heavens Basement lie beneath the gutters that the Quireboys and Motley Crue once urinated in. This Ratt infested sound is catching.
The band are working on a new album which will be called 'Paranoia & Unbreakable', and the new songs played tonight such as 'Mirrors' and '10 Minutes' should take the Basement to anothel level.
Ending the evening with a raunchy 'Executioners Day' the band left no prisoners. A highly strung performance. An enjoyable night out and - if these three bands are the future of rock - then it's in some very safe hands indeed. For once the Brits can show the Yanks how it's done.
Heavens Basement and Dear Superstar are touring together again in Feb/March at a town near you. You'd be a fool to miss them.

Heavens Basement set list : Tear Your Heart Out / Can't Let Go / Misunderstood / Fade Away / Unbreakable / Such Is Life / 10 Minutes / Paranoia (sung by Johnny Rocker) / Mirrors / Graduation / Reign On My Parade... encores ..No Pity / Executions Day

Review by Mark Taylor
Photos by Noel Buckley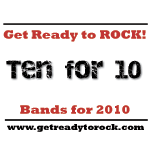 ---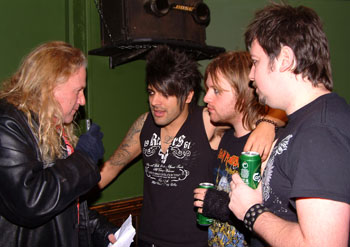 ---