HAWKWIND Quark, Strangeness And Charm Cherry Red/Atomhenge (2009)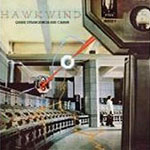 Cherry Red continue their excellent Hawkwind series, showing at long last how this extensive catalogue should have been treated long ago. QSC was the Hawk's second post Lemmy/Doug Smith/UA album and with Robert Calvert back fronting the band, things were looking good.
The album opens with 'Spirit Of The Age' and this features some Dr Who like sound effect. This is apt given the photos of period stage costumes in the extensive booklet – bubble wrap clad monsters anyone?
The Hawkwind sound was now a pace above the earlier space rock, the hint of new wave, even a hint of a nod at punk in 'Damnation Alley'. That said, 'Fable Of A Failed Race' is a hark back at the whimsical electronic space sound. The title track is a classic, a modern jumpy track , solid guitar chords and chunky yet layered keyboards. 'Hassen I Sabbah' has an eastern influence to the intro, and is a heavy grinding number. To the uninitiated some touches may sound disjointed, but they band are mixing psychedelic and new wave to great effect.
The overall sound is hinting strongly towards the next (but one, it's convoluted) album PXR5; some tracks already in the live set would appear on that latter album, and live versions 'Robot' and 'High Rise' are amongst the plethora of extra tracks across the 2 discs. Many live and alternate versions are previously unreleased.
Well worth checking out.
****
Review by Joe Geesin
---
| | |
| --- | --- |
| | Print this page in printer-friendly format |
| | Tell a friend about this page |