HAWKWIND Reissues Atomhenge (2009)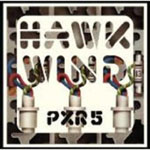 Atomhenge, part of Cherry Red, has been set up to remaster newly acquired parts of the Hawkwind catalogue, with band involvement, and this has really been a worthwhile job. REALLY!
The only thing that's more of a mess or more expansive than the Hawkwind catalogue is their family tree, and in the late 70s it was tumultuous even by Hawkwind's standards. If you've ever tried to navigate the Magic Roundabout in Swindon you'll know what I mean. And if you think I'm reviewing these in reverse order, there's a method to the madness.
In 1975, following Lemmy's departure from the band to form Bastards (later known as Motorhead), Hawkwind moved from both label and management and signed to the Charisma label. After Astounding Sounds & Amazing Music and Quark, Strangeness & Charm (both also reissued as part of this series), the band took a break, with Dave Brock and Robert Calvert uniting with a local Devon band to perform as The Sonic Assassins, which nearly didn't happen due to Calvert's . Still touring heavily the band then started to record some new material in January 1978. Some songs had already been aired live, and some of the tracks were recorded live at the tail end of 1977 and overdubbed in the studio. It was this material that would later become the album PXR5, but the material was shelved as the band toured the USA, falling apart in the process with keyboard player Simon House leaving to join David Bowie.
With a change of name to Hawklords, combination of legal reasons with a management split and attempted band rejuvenation, the new band featured Brock, Calvert, bassist Harvey Bainbridge (ex Sonic Assassins), drummers Simon Kind and Martin Griffin and pianist Steven Swindells. Released later in 1978, the music mixed modern space rock a la Hawkwind and a new wave pop feel. Opening track 'Psi Power' was released as a single (backed with a remixed 'Death Trap', the original later appearing on PXR5). 'Freefall' is more atmospheric, with a spacey sound and plenty of electronic sounds. A highlight is '25 Years', very very eclectic and punchy, and rocky at the same time. This track could have influenced Falco and Adam Ant, yet retains a Hawkwind touch.
Here, disc 1 is bolstered by single versions and b-sides, and disc 2 features 5 tracks from the 1977 Sonic Assassins gig and 10 alternate versions/outtakes. ****
After the album's release, the band disintegrated (again), and the remaining unit were effectively dropped by the label. So the 1979 release of the previous album's recordings is what became PXR5, effectively completing the contract. Although not that heavy, it is a very strong album, the band still on the bounce back from the Assassins gig. There's an energy in songwriting and performance that, although not classic 'Wind, just makes for a damn good album. Calvert's vocals capture the atmosphere perfectly, the band performing as a tight unit. Dubbed or otherwise, the results are excellent. 'Death Trap' sets the scene well, while 'Uncle Sam's On Mars' is as relevant now as it was then. The line 'Earth might be a desert soon, America has left the moon' sums up so much.
One of the highs is the track 'High Rise', written about how depressing living in one can be, and the LP version restored; the undubbed version with different vocals from the Anthology series, that plagued previous CD issues, is now one of 8 bonus tracks. Many of these are previously unreleased, including the planned single 'We Liked To Be Frightened', which nods back at QSC. *****
Both albums perfectly presented. A Job very well done.
Review by Joe Geesin
---
| | |
| --- | --- |
| | Print this page in printer-friendly format |
| | Tell a friend about this page |