HATFIELD AND THE NORTH Reissues (2009)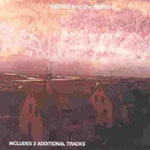 With first tier Canterbury scene output (Caravan, Ayers etc) put to bed, it's the turn of the marginally lesser -known, though by no means second division. Left pretty much to his own devices while boss Richard tuned in to the kerching of tubular bells, Virgin Records A&R guru Simon Draper signed wilfully esoteric and experimental high-brow acts to the label. We have much left-field joy to thank Simon for.
The Hatfields were amongst the more commercial (which is going some) harnessing the classical/rock influenced former Egg keyboard wizard Dave Stewart to the modern jazz sensibilities of Delivery's guitarist Phil Miller and drummer Pip Pyle. With doleful voiced Richard Sinclair (ex-Caravan), they forged in their 1974 debut Hatfield And The North a dense and rewarding work of originality, melody, harmony and chaos swept along in a meticulously precise assembly of shifting time signatures, weaving torrents of scrabbling guitar and electric piano in and out interludes of sweet, gentle cooing; there's even a touch of spacey krautrock in the mix.
Guests include Henry Cow saxman Geoff Leigh and Robert Wyatt, who contrives to make Sinclair sound deliriously happy, guest vocalises. Track titles revere absurdism on occasion: 'Shaving is Boring', 'Fitter Stokes Has A Bath', 'Your Majesty is Like A Cream Donut' etc. while gnomes featured in their stage act. ****
Outrageously expensive to record thanks to the stuttering technology at Virgin's Manor Studios, 'Hatfield and The North' saddled the band with a nasty case of negative equity. Nonetheless they forged back into the studio that year to make in The Rotters' Club an even more cohesive work, spinning pretty pop melodies about a central core of blasting improv, with perhaps fewer studio effects than previously (the debut samples ringing telephones, roaring crowds amongst other japes). Guests ramping up the creative credentials include flautist Jimmy Hastings, wind instrumentalist Lindsay Cooper amongst other scene luminaries of the day. ****
Both albums make for demanding listening but heard with open ears, and better still uninterruptedly, repay by the bucketful. Neither have aged badly and these re-mastered reissues benefit from bonus tracks in singles and live material that confirms the band's reputation for a good gig.
Critically-acclaimed as these were, the band never got over the cost of making its debut and folded in the face of Virgin's continued recouping of cost. Rotters!
Review by Peter Muir
Peter Muir presents "Progressive Rock Fusion" on Get Ready to ROCK! Radio, Sunday 19:00, Monday 19:00
---
| | |
| --- | --- |
| | Print this page in printer-friendly format |
| | Tell a friend about this page |