HANGING DOLL Reason & Madness Once Bitten Music (2009)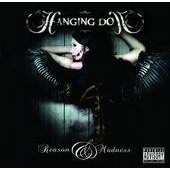 An interesting mix when you get a classically trained guitarist (classical music degree to boot) and a female singer who trained as a classical opera singer decide to make a gothic metal album.
The album kicks off with a lengthy piano intro before be operatic gothic metal comes in. Although a little disjointed in places, it builds well, with 'Hope Springs Eternal' adding a dark edge to the power metal.
With an EP out already and a support slot with Saxon, the band have been together long enough to gel. The vocals are often ethereal, and the classical influences take the power metal beyond symphonic.
Some of the orchestration is almost Beatle-esque, layered nicely on operatic metal that would give Nightwish a run for its money. Some of the slower tracks are at the heavy end of power ballads, but with the intricate guitar and operatic vocals add a depth, an extra dimension.
Some of the faster tracks like 'A Formidable Mistake' are in Rhapsody territory, no bad thing.
I have to admit this album took a couple of plays to really get into, but it was well worth it.
An all British take on what is good right now, with an extra dimension or three.
***½
Review by Joe Geesin
---
| | |
| --- | --- |
| | Print this page in printer-friendly format |
| | Tell a friend about this page |