BRIAN TARQUIN Fretworx Nu Groove Records NUG-2019-2 (2008)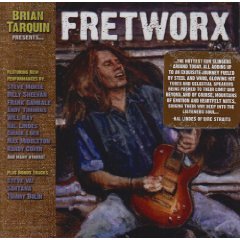 Solo guitar albums are frequently hampered by a tendency to demonstrate as wide a range of style as possible or indeed just to display an impressive contact list.
Tarquin's album falls into the first category, and whilst there are some standouts here for the most part there is an air of predictability. Heavily influenced by Vai and Satriani, Tarquin has a deft touch but - for me - this album lacks spontaneity and the repeat-play factor.
A tribute to those who lost their lives in 9/11, all pieces are themed. '86th Street' with Randy Coven on bass is pleasant enough and sees Tarquin slip into a funkier groove repeated on 'Aphrodite' and 'Yorkville'.
The funkier style suits him better: tracks like 'Dionysus' , 'Tears' and 'Westside Highway' are really quite average.
Somewhat strangely for what is essentially a solo album, three bonus tracks feature archive sessions from Vai, Santana and Tommy Bolin.
Guitarophiles may also be lured in by the impressive guest list, with names such as Billy Sheehan, Steve Morse and Frank Gambale, but for the most part this never catches fire. Which is probably just as well, for partial proceeds go to 'Friends of Firefighters' a New York charity formed after 9/11 ***½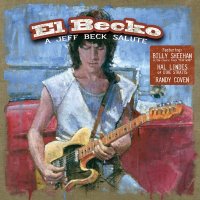 Tarquin crops up again playing on and producing El Becko A Jeff Beck Salute (Nu Groove Records NUG-2020-2) along with some of the musicians featured on his solo album.
I am always a bit wary of "tribute" albums, the arrangements have to be substantially different to the original or what is the point? You may as well just go and investigate the original.
And that is precisely the point here: few of these versions add anything, other than demonstrating the respective musicians reverence to Beck. An opportunity for some lesser known players to show off their chops, maybe.
Only violinist Steve Bingham puts a new slant on 'Scatterbrain' (as he did on the Led Zep tribute) and Martin Winch on the semi-acoustic 'Two Rivers'. And the mysterious POM does a Rodrigo y Gabriela on 'You'll Never Know', but without the thumping.
The liner note suggests the justification for this Beck re-fashioning is the sporadic output from the master himself. This comment is rendered entirely impotent by the return of the master: far better to check out his immaculate Performing This Week album than a somewhat lack-lustre second best. ***
Review by David Randall
---
| | |
| --- | --- |
| | Print this page in printer-friendly format |
| | Tell a friend about this page |