GRIMMSTINE Grimmstine Metal Heaven (2009)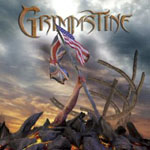 The Grimm part of the band's name you will certainly know as it is none other than Grim Reaper/Onslaught/Lionsheart vocalist Steve Grimmett. The Stine part comes from guitarist Steve Stine, who maybe a new name but won't be for much longer after you get a earful of his excellent guitar playing.
After a mellow instrumental start with 'The Memory' its all guns blazing on the highly catchy '911', definately the song of the album.
'Supernatural' and 'Got Nothing But Time' take a more trad metal route hinting at Iron Maiden at times. 'Prisoner' is good, solid hard rock/metal the sort that Gimmett does so well in his own band and before that in Lionsheart.
The good thing about a vocalist like Steve Grimmett is he is just at home on the quiter numbers and really puts in a top performance on the album closer 'To Sing A Lullabye (Immy's Song)'. A great song although definately out of kilter with the rest of the album!
With Steve Grimmett on board you know it will be good album to start with and add new find Steve Stine and you have a great album. Really hope these two record again and maybe get the chance of some UK dates. If hard rock/metal is your thing get this pronto.
****½
Review by Jason Ritchie
---
| | |
| --- | --- |
| | Print this page in printer-friendly format |
| | Tell a friend about this page |
***** Out of this world | **** Pretty damn fine |
*** OK, approach with caution unless you are a fan |
** Instant bargain bin fodder | * Ugly. Just ugly
get ready to rock is a division of hotdigitsnewmedia group