GREGG ROLIE BAND Rain Dance Live (Limited Edition) www.greggrolie.com (2009)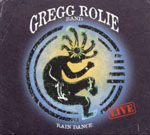 With the 40th anniversary of Woodstock imminent, here's one of the true survivors. Greg Rolie was there with Santana at the gig which really broke the band to an international audience. He left Carlos and the crew in 1972 and since that time he has founded Journey, returned to Santana briefly in the early-1980s, and then followed a solo path.
More recently he's returned to his Latin fusion roots, and this latest live offering is like turning the clocks back forty years, this is Classic Santana before its bandleader got religion and celebrity.
The pedigree of Rolie's band is also totally authentic, with original Santana member Mike Carabello on congas joined by Adrian Areas (son of original percussionist Joes Chepito Areas) and another Santana journeyman Alphonso Johnson on bass. They are joined by drummer Ron Wikso (who was with Rolie in Journey off-shoot The Storm), Kurt Griffey on guitars and one-time Jean Luc Ponty keyboardist Wally Minko.
The 12 tracks here play like a mini-Santana greatest hits and that perhaps is the biggest niggle although Rolie drops in a sprinkling of his own material to provide welcome counter-weight and a blues standard 'As The Years Go Passing By' which is a tour de force for guitarist Griffey.
There is some major musical talent at work here, so the sheer musicality carries the album on tracks like opener 'Jingo', 'No One To Depend On' and the inimitable 'Soul Sacrifice'. It's like Carlos c.1969 using millennium-strength technology.
Rolie's own compositions are very complementary to the overall Latin vibe. 'Going Home' and 'Give It To Me' were included on his 2001 solo album 'Roots' whilst 'Across The Water' is equally infectious. The final track 'Bailamos El Son' was recorded for a TV special in October 2008.
This is a welcome release and if we ever had a hot,dry summer (at least in the UK), an admirable soundtrack.
****
Review by David Randall
---
| | |
| --- | --- |
| | Print this page in printer-friendly format |
| | Tell a friend about this page |