GRAMMATICS Grammatics Dance To The Radio (2009)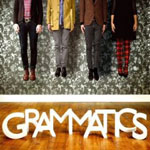 With a collective love of classic British art bands, Leeds based the Grammatics have an unusual line up - the traditional lads 3 piece of guitar, bass and drums being supplemented by the classically trained (and Swedish) cellist Emilia Ergin.
Coming some 12 months after their debut single, their eponymous debut album is a strange beast - almost like a new Roxy Music for a new generation. Part art rock, part pop, and part sonic soundscapes the band almost defy categorisation.
And therein may lie the band's downfall. There's a sugary coating to Owen Brinley's Jon Anderson range vocals, prog style time changes, and an almost Chris Squire sound to Rory O'Hara's bass lines. But the band's sound is held together with strong sense of melody and a hefty dose of pop sensibility. Ring any bells?
Yes, when the Buggles joined forces with those stalwart proggers, the classic Owner Of A Lonely Heart was what emerged. There's nothing here to compare, but that would be expecting too much , and it's not what Grammatics are about. But it is nice to see a band trying their hand at something more challenging than the NME circuit (although the band cover all bases by making the odd nod in that direction as well).
An accomplished and ambitious debut that throws the veritable kitchen sink into the mix, the album is a far throw from much of today's readily disposable pap. But if there's one thing missing, it's some serious guitar licks. And without them, Grammatics may find it difficult to embrace the classic rock fraternity, but at the same time too challenging for today's download junkies. Nevertheless, a debut to be proud of.
***
Review by Pete Whalley
---
| | |
| --- | --- |
| | Print this page in printer-friendly format |
| | Tell a friend about this page |