Just witnessed your best live gig?.. send us a review!

GOTTHARD Relentless Garage, London
3 November 2009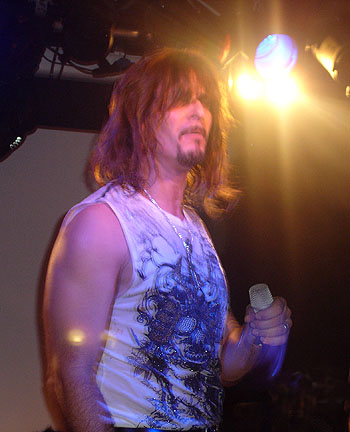 No band has delivered more consistently in the field of melodic hard rock over the last decade as Swiss outfit Gotthard. They have enjoyed huge success on the European mainland, and yet in England still remain something of a well kept secret.
Even though the crowd at the Garage was much bigger than for their previous visits to the Capital four years ago, the place was still only slightly over half full.
It was also apparent that the stage was smaller than they are used to, and cramped the style of the six-piece band (with a live keyboard player) who are quite mobile on stage, particularly singer Steve Lee, who comes over as a hybrid of David Coverdale and Steven Tyler but with a refreshing humility.
That, together with an initially muddy sound, meant the gig took a while to come to the boil, but there were still many highlights: Sister Moon featured some very Whitesnake-ish slide guitar from Leo Leoni, their cover of Hush (one of the remnants from their first ever tour in 1992, supporting Magnum) got the crowd going with a singalong, and of seven numbers from the new Need to Believe album, the title track was a classic Euro ballad akin to those the Scorpions made a speciality of in the 1980's.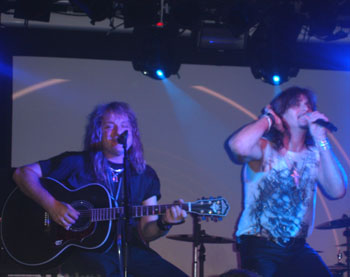 A mid-section acoustic set, with just Steve and Leo playing some of their ballads and responding to fans requests, took the tempo down, yet oddly sparked the gig into life as they spent the rest of the set rocking out in contrast.
Highlights included All We Are, from 2005's classic LipService album, the massive hooks of The Oscar Goes to You and the glam stomp of Lift U Up which had the front of the crowd pogoing.
The encores also lived up to expectations, with Leo playing his voice box during old favourite Mountain Mama, before they closed with the absolutely massive hooks of Anytime Anywhere, the stand out track from Lipservice, one of the decade's great albums. Another quality gig, but what will it take for them to gain the recognition they deserve on UK soil?
Setlist:
Unspoken Words/ Gone too Far/ Top of the World /Need to Believe / Sister Moon/ Hush/ I Know you Know/ Right from Wrong/ Unconditional Faith
Acoustic section: Heaven/ You're All I Care For/ Let It Be/ One Life, One Soul/ Shangri la/ All We Are/ I Don't Mind/ Oscar Goes to You/ Lift u Up

Encores: Mountain Mama/ Anytime, Anywhere

Review and photos by Andy Nathan
---