Just witnessed your best live gig?.. send us a review!
GONG
HMV Forum, London 27 November 2009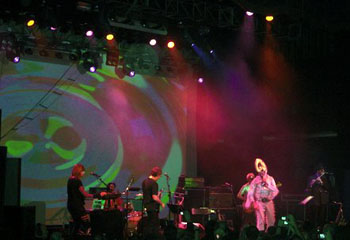 Of all the different line-ups that Gong have has over the years, the best known and best loved was the one featuring Steve Hillage that produced the Radio Gnome trilogy in the early 70's.
It's approriate then that tonight's proceedings are kicked off by the Steve Hillage Band, all of whom will later return to the stage as part of Gong. This is the first time Hillage has performed his earlier solo work in London for quite some time, so the anticipation was high and the crowd arrived early to catch his set.
It's a given that if you're a fan of Gong you're gonna be a Hillage fan too, so tonight's gig had the feel of a great double bill.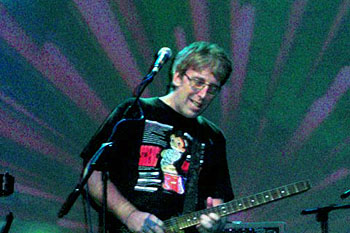 Hillage's 40 minute set was superb, and a reminder of what a talented and unique guitar player he is. The set zipped by in a flash, but we're treated to Hurdy Gurdy Man and an ample slice of Fish Rising, his 1975 solo debut. We can only hope that he returns soon with a headline gig of his own to play a decent length set.

Pretty soon we're transported to the Planet Gong and the world of flying teapots, pothead pixies, and octave doctors - characters that anybody with a misspent youth participating in some herbal refreshment will be well familiar with.
The giant video screens at the back and sides of the stage ensure a brightly coloured psychedelic visual feast, and set the tone nicely for Gong's tripped-out jazzy space rock.
The set comprises material drawn mainly from the Radio Gnome trilogy of albums - Flying Teapot, Angel's Egg and You - as well as the album that preceded them, 1971's Camembert Electrique.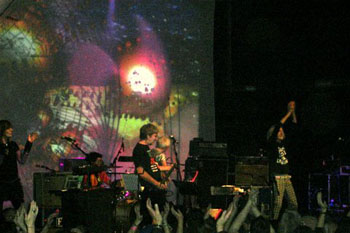 We also get a good selection of tracks from this year's 2032 album, the highlight of which was probably the brilliantly named 'Wacky Baccy Banker' where leader Daevid Allen ponders on what would happen if a modern day fat cat banker smokes a big one, sees the error of his ways, and defects to the delights of the Planet Gong. I wouldn't hold your breath on that one, Daevid.

Highlight of the set has to be a jaw-dropping rendition of the Gong classic Master Builder from '74's You, featuring the sublime bass skills of Mike Howlett and some outstanding guitar work from Steve Hillage.
A genuinely rapturous reception is received. Gong leader Daevid Allen, now unbelievably well into his seventies gives a terrific performance, resembling the old TV character Catweasel on acid. For a man of such advanced years he is incredibly sprightly and even manages a few outrageous costume changes during the course of the set.
He is still ably assisted by his long term side kick Gilli Smyth whose space whisper vocals are still in good order. Relative newcomer Theo Travis provides some superb sax and flute throughout the set, especially on Flute Salad/Oily Way from the Angel's Egg album, and drummer Chris Taylor forms a formidable rhythm section partnership With Mike Howlett.
The band wrap the set up in fine style with You Never Blow Your Trip Forever, the closing section of the You album, and there's not a disappointed face in the house.

Gong have not sounded this good for many many years, they really are still at the top of their game. If they come round again, do yourself a favour and take a trip to the Planet Gong and check them out while you still can.

Review by Jim Rowland
Photos by Andy Wilson
---