Just witnessed your best live gig?.. send us a review!
GODSIZED
The Fighting Cocks, Kingston upon Thames
17 October 2009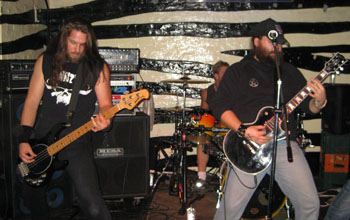 GODSIZED!!!! You ain't kidding. This Croydon 4 piece hit the stage like a Grizzly Adams/Hells Angels convention. Hair, beards, guitars and attitude.

For the best part of a year Godsized have been picking up fans and rave reviews all over the country and their ballooning reputation as one of the best rock/metal bands to emerge in a long time shows no sign of slowing down. They bring a breath of fresh air to anyone tired of clichéd cock rockers and imitators.
Here at the cocks tonight their huge presence and in your face Metal makes the intimate stage all but disappear. Straight into the no nonsense heads down 'Walking Away' with its Sabbath/Soungarden riffs and searing solos.
As an opening track on the bands 'Brothers In Arms' EP it sets the scene for what follows but as a set opener it takes no prisoners and proves with its sheer class that Godsized have both feet planted in Classic Metal, a nodding acceptance of The New Wave of British Heavy Metal and Biker Rock blended perfectly with NOW.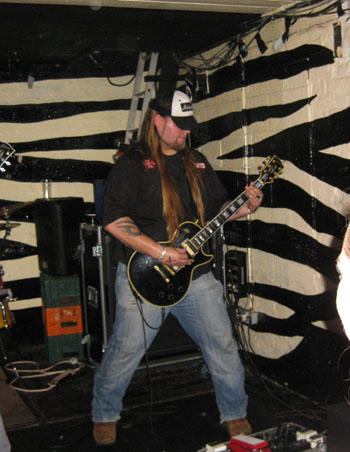 'Next In Line' follows with the band flexing their southern boogie muscles, again with their undeniably cutting edge Metal approach. In fact the more you listen the more you hear the diverse influences that give Godsized their unique sound and presence, none more so than on 'Fight To Survive' with its swirling eastern guitar intro and trippy but heads down twin guitar punch courtesy of guitarist/vocalist Glen Korner and baseball capped lead guitarist Neil Fish. The whole thing being driven and punctuated by a driving bass line and immense drumming performance from Effen.

The title track of the Brothers in Arms EP follows and is again a Southern Metal rollercoaster ride with Glen's vocals adding grit, with the audience by now toe to toe with the band, moshing and singing along.
This is certainly a band at one with their rapidly growing following and it is their earthiness and commitment that sets them apart from the also rans. Head Heavy begins with an explosive bass riff from Gav Kerrigan and yet more guitar interplay between Neil and Glen while double speed kick drums pump out brain numbing time signatures and Glen delivers a vocal performance that would match Chris Cornell at the very top of his game.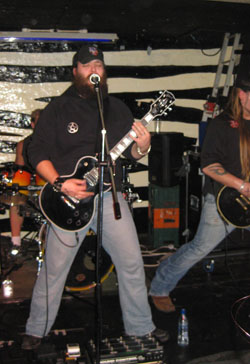 The crowd are by now baying for more and are only stilled by the twin guitar and bass assault intro to 'Bleed on the Inside' a real killer set closer with the band throwing bludgeoning riffs and incendiary time changes into what is by far the bands most diverse song, with crowd and band as one.
A real epic with masses of flailing hair (band and crowd) and Neil Fish alternating between speed soloing and chopping out cross cutting riffs with Glen Korner. The show finishes with the audience wanting even more but that will have to wait for another day.

If you love rock/metal, there is probably not a finer new band in the country at the moment, their EP is jammed with great songs played and produced as good as anything you are likely to hear and so do yourself a favour and check them out NOW.

Review by Geoff Banks
Photos by Mark Taylor
---