GODDASS My Beautiful Sin (2008)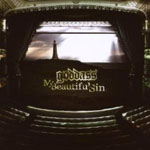 Italian Metal-melody core-mob 'Goddass' unleash their debut album with UK shows scheduled for this summer.
Hailing from Turin and formed back in 2004, 'Goddass' already boast an intensive live presence throughout Europe. They have released three self produced records in mainland Europe and have toured throughout the UK. After months in the studio with London based Producer Matt Hyde ('Machine Head', 'Bullet For My Valentine', 'Trivium', 'Funeral For A Friend'), the band have now finished this debut album.
Acoustic intro's, modern electric guitar riffs, rhythmic fast drums and Emo style throaty vocals, or in short; 'Bullet For My Valentine (BMFV)" with an extra little edge.
All tracks are quite similar with the usual 'BMFV' instrumental preludes and intros. Only one track that sticks out to me is "Bleeding a Scream" which is catchy and noticeably more heart felt than the latter of the album which I found myself singing around the house without even noticing.
Vocalist "Al Salerno" can growl his way into hell, or beautifully sing his way to heaven, metal core vocalists of this nature are hard to come by and I applaud his obvious hard efforts.
It's a shame this album does sound too much like 'BMFV', but that in itself will give rise to critical acclaim and get this band noticed. Maybe the next studio album will be produced by someone who is not marketing themselves as a producer!
Not too shabby, worth a listen, and most definitely an addition to the live gig market.
***½
Review by The Fluffmeister
Band website
---
| | |
| --- | --- |
| | Print this page in printer-friendly format |
| | Tell a friend about this page |