GHz There's Trouble Coming ND1001 (2009)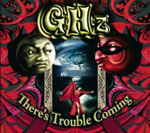 Scratch lightly beneath the surface below this Cream dominated set and you find a bunch of mid West Jammers who are living their British rock/blues psychedelic dream.
That the trio GHz are all excellent players is borne out by this well played set that probably only lacks a better vocalist and perhaps a wider choice of covers to really hit the mark. But given the popularity of American jam bands such as Frogwings, Deep Banana Blackout, Robert Randolph, Umphrey's McGee Dave Matthews, Govt Mule etc, this trio of Washington DC's best jammers are probably safe in their assumption that there is a sufficient amount of interest in a jam project by a Cream heavy project such as this.
But then the downside would be that some splendid jammed moments aside, material such as 'SWALBR' hasn't aged well either lyrically or musically. In fact in many respects it's the band's own material that holds up better, most notably Dan Hovey's 'There's Trouble Coming' with its proggy explorations on the back of a Tull (think 'New Day Yesterday') style bass line. You can almost forgive the trite narrated lyrics as things are resolved in an impressive Grateful Dead style of searing guitar lines.
But where some of the Jack Bruce/Pete Brown lyrics have lost their import through the passing of time, the band's own lyrical effort such as Scott Giambusso's 'When Mars and Moon Collide' doesn't sound much better. Come to that, there is no Jack Bruce style vibrato here to turn even the most eclectic lyrics into something meaningful. This is especially so on Cream's 'Deserted Cities'.
'When Mars and Moon Collide' for example, is a band original that retains the 60's style dramatic bv's, but the lyrics along the lines of 'planets dance to the cosmic pulse of time, we find our hearts where mars and moons collide' simply don't have the dubious benefit of the psychedelic era to hide behind. That said, the piece is uplifted by some brief wah wah work and further jammed out explorations.
There's a further tasty wah wah intro to a cover of Hendrix's' Up From The Skies', but the vocals, with the exception of 'Crystal Ship', are exactly the same on each track. Hendrix may not have had the greatest voice on earth but he sure could phrase.
The real problem comes with the reading of Howling Wolf's 'Sitting on Top of the World' a traditional blues well suited to Jack Bruce's vocals, but covered here as a pop song before Dan Hovey's guitar solo and John Zidar's muscular drum pattern tries to make more of it.
The band appears far happier on Dan Hovey's vaguely psychedelic gentle groove 'Flimsy Burnoose', even if it does have an annoying triangle and an unlikely Hawaiian guitar in the mix. There's a curious volume rush preceding a chord change and a subsequent guitar solo that flies over the original groove. A cool concept in search of a producer perhaps? Dan Hovey adds some luscious wah wah on the muscular 'Slow Poison' an impressive number that achieves a link between the Cream dominated past and the band's own present. Mary Ann Redmond adds some startling post gospel style vocals.
The band jams out to good intent on Ginger Baker's 'Those Were the Days' which features some delicate vibes which are revisited on 'What A Bring Down'. On the closing cover of The Doors' 'Crystal Ship' Dan Hovey does at least try to add a touch of gravitas to his vocals, achieving a passable attempt at Jim Morrison's reading of the song though he eschews much of the Kingnake's dramatic input as the band settle on a bass led cool jammed out section and shimmering guitar parts. As with much of the material here,
GHz love jamming impressively whenever possible. But given the preponderance of dated Cream related material they might have been better served exploring a few more of their own compositions.
***
Review by Pete Feenstra
---
| | |
| --- | --- |
| | Print this page in printer-friendly format |
| | Tell a friend about this page |