GERRY RAFFERTY Life Goes On Hypertension (2009)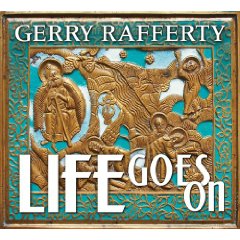 Whereas Cat Stevens (a.k.a. Yusuf Islam) left the music scene in 1979 for all the right reasons (religion) Gerry Rafferty slipped off the radar for all the wrong ones (booze). The one-time Humblebum (with Billy Connolly) and Stealer's Wheel alumni achieved a massive hit in 1978 with 'Baker Street' and then gradually faded out, no doubt fuelled by the estimated £100k a year royalties from this song alone. Which is a shame.
Listening to this 'new' compilation, you can't help thinking of what might have been. Gerry Rafferty could have had a continuing career like a Scottish Paul Carrack and ensured an even healthier pension plan rather than acquiring the description 'Pop's Lord Lucan'.
As it is, listening to 'Life Goes On' is tinged with a certain sadness and frustration. Rafferty has picked out the best of his last studio albums (released in 1992 and 1994 by Polydor, and by Hypertension in 2000) and grafted on some unreleased material and remixes including an exquisite reading of Lennon/McCartney's 'Because'. If these are genuinely recent recordings, then musically Rafferty is in rude health.
Thankfully his nasally, distinctive tones are still in place and he is always surrounded by excellent musicians. In this case, Mel Collins, Mo Foster, Hugh Burns, B.J.Cole, Mark Knopfler and Jerry Donahue. Former Stealer's Wheel partner Joe Egan provides backing vocals on several pieces too. Whilst most of the fare here is essentially easy listening, it is all beautifully executed. Only 'The Waters Of Forgetfulness', 'Conscious Love' and 'Hang On' have a welcome urgency.
And as if to underscore his flawed genius, Rafferty's added some newly-recorded religious songs in the shape of 'Kyrie Eleison', 'Adeste Fidelis' and 'Silent Night' as if he has found his own salvation, thirty years too late.
****
Review by David Randall
---
| | |
| --- | --- |
| | Print this page in printer-friendly format |
| | Tell a friend about this page |