GEOFF HARTWELL Hate To See You Go Freeworld FREEM5019 (2009)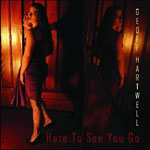 Geoff Hartwell may not be a household name but in the world of guitar aficionados he's a highly regarded practitioner with a CV that boasts high profile studio and TV work as well as live outings with he likes of fellow slide player Sonny Landreth, and Cindy Cashdollar (both of whom make guest appearances).
His playing is a mix of the incendiary - evoking Dave Hole on 'Drinkin' Bourbon Whisky'- the tasteful, as on his sparring with Sonny Landreth on the opening 'Tumbelina', to the more introspective, with a cover of Gershwin's 'Summertime' on which he swaps to Hawaiian guitar.
There's also an interesting and original arrangement of 'Maybelline' and a funky undertow which is given a more muscular expression on the instrumental groove 'Bar Fungul'.
The band stretches out as Dana Coller blows up a storm on baritone and Chris Burke adds weighty Hammond before Geoff adds a trademark slide solo. And if the above sounds like's he's heavyweight guitarist in search of a song - much like say guitar demonstrator Greg Koch - that is only partly true.
Geoff certainly is no heavy duty song-writer but he does enough to draw you into a number of solos that lie at the core of much of his work. His choice of covers is also interesting and he seems happiest on the Richard Shindell penned 'Are You happy Now?' conjuring up an impressive edgy slice of up tempo, harmony laden pop/rock before he topping it all with a growly toned solo.
And then of course there is always the blues to fall back on and to that end he adds Dana's baritone and some ever present Hammond into the mix on title track which is cleverly predicated on the clever contradictory chorus 'hate to see you go, love to watch you leave'.
Meanwhile it's back to some stellar playing on 'Honest' on which he leans into his solo's with some long linear lines over more smoking Hammond before working toward a crunching climax.
Geoff will surely gain a wider fan base with this interesting release as both guitar fans and rock/Blues fans in general will find plenty to enjoy. And while he may be destined for the ever increasingly busy market place for virtuoso guitar players looking for their niche, 'Hate To See You Go' suggests he has enough to make his mark.
Certainly few guitarists would be brave enough to round off their album with the meditative instrumental. 'Water is Wide' employs a sonorous feel as Geoff teams up with lap steel player Cindy Cashdollar's to great effect. There's control, feel, real presence and some delightful evocative tones as befits a confident player with demonstrating a fast growing maturity as a solo artist.
****
Review by Pete Feenstra
---
| | |
| --- | --- |
| | Print this page in printer-friendly format |
| | Tell a friend about this page |