GENTLEMEN BLUES CLUB GBC Volume 3 Red White And Blue Manifest Destiny MD-701 (2009)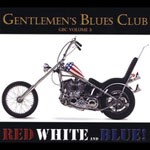 'Red White and Blue' by Gentlemen's Blues Club: GBC Volume 3 is one of those albums that doesn't quite live up to expectations. For here is an assemblage of some of Southern California's most trusted players including Alan ('BB Chung King') Mirikitani, top session bass man Mick Stover, song writer Dave Osti, former Steve Miller's bass man Gerald Johnson and guitar hot shot Philip Sayce, but in the main the album is like one of those early 80's Canned Heat biker albums, big on intent, less so on impact.
Throw in the mix the up and coming vocalist Eric Schneider and you should have a potent mix. In fact what we get are some tired licks, lumbering songs and only some occasional spark.
The title track is the kind of dirgy biker anthem that sets the languid pace for much of this album. There are brighter moments notably with a nice hook and rockier edge of 'Slippin' Away' and the characteristic relaxed groove of Alan Mirikitani's playing on a cover of 'Stone Cold Rhythm Sh ake'.
But for the most part this project lacks energy. On Eric Schneider's mournful 'Long Way To Run, this is compensated for by a gospel feel to the song, but when you consider the best song on the album is the Stover/Osti composition 'Never Say Never (Edge of a Heartbreak)' which is one of those sugary Eagles type AOR things that should have no place in a band like this, then you realise that far from being a sparkling example of biker rock blues, 'Red White & Blues' is a compromise that fails to ignite the pulse.
The fact have to wait until the penultimate track - an instrumental 'Hard On You' - to bring some much needed dynamic to the set gives you an idea of the how laid back this album is. And as if to revert to type, it's hard to believe that the explosive Philip Sayce and Mirikitani can't make more of a closing cover version of 'Superstition'.
Perhaps I should have paid more attention the small print, as in brackets it says 'Throb Mix'. I rest my case.
***
Review by Pete Feenstra
---
| | |
| --- | --- |
| | Print this page in printer-friendly format |
| | Tell a friend about this page |