Just witnessed your best live gig?.. send us a review!
GARY MOORE
02 Academy, Islington, London 2 December 2009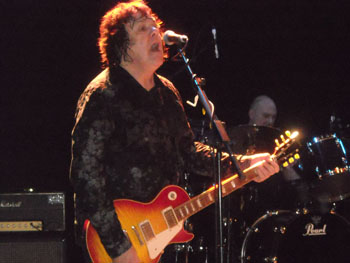 Tonight's event was billed as Planet Rock's Xmas Party, so perhaps Gazza had something special in store, or would it just be a case of 'Still got the blues for Yule' ?
As it's almost Christmas, I'll resist sharing my full thoughts on the supporting pantomime. Suffice to say that Hovercraft Pirates provided a rather sickly Green Day pastiche and Justin Hawkins' fabulous moustache was the best thing about Hotleg's paraplegic performance.
Part of me wants to admire Gary Moore's dedication to winning his battle with the blooze. Yet, some of me feels sad that he rarely strays from his chosen path; Particularly given the strength and depth of his musical prowess that stretches from the torrid fusion of Colosseum II to the wild frontiers of celtic metal via his peerless pairing with Phil the King.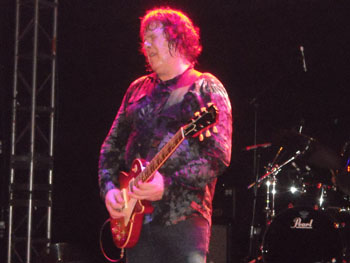 Although I found 2002's 'Scars' project to be a little uninspired, at least it rawked; with the supporting live shows nicely satisfying.
Sadly, since the scars healed, it's been a case of blues with a side order of blues, occasionally with a dash of greens, ever since.
Worse still, some guy named Joe has emerged following a long apprenticeship to offer our Gaz real competition as Blues FM poster boy and Clapton's new BFF.
How would he respond ? As ever Gary let his fingers do the talking, albeit with very little crowd interaction and little in the way of show. His backing band were just that. Three randoms called Pete, Vic and Steve, who did what was required of them quite competently, but did not merit any kind of introduction during the gig.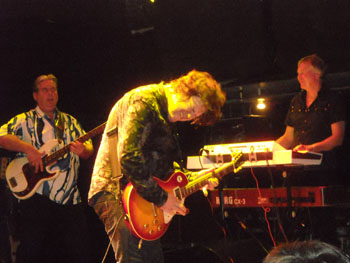 Yet strangely none of this affected my enjoyment of the gig. I was not there to shout 'Murder in the skies', although some deluded souls were. I was there to witness still the best rock-based blues guitarist playing the music he clearly loves in an intimate setting.
Kicking off with 'Oh pretty woman' was ironic, given that to my eyes, Gary tonight seemed to have more than a passing resemblance to the Cowell conquering temptress Susan Boyle.
That troubling SuBo image was banished quickly as GaMo hit his stride with seering licks and emotive soloing, with a healthy selection from his latest album 'Bad for you baby'.
The only disappointment was that that by the mid-way point in Gary's set, the audience had noticeably thinned-out. My conclusion is that by that time all the PR liggers and freeloaders had finished their vacuous networking and were heading onto their next freebie event - good riddance. No bad thing, as this left the real fans to their GaMo worship, and lent the gig a reverential and inspiring atmosphere.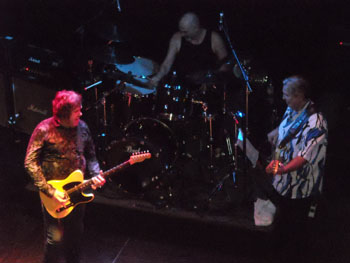 This was most telling during an extended and respectful version of Al Kooper's classic 'I Love You More Than You'll Ever Know' (from Blood Sweat & Tears' debut album). You could've heard a pin drop as the song ebbed and flowed and Gary carried the audience along as he caressed his Les Paul to eargasm.
The main set closed on a killer 1-2-3 combo from the 'Still got the you-know-what' album that saw Gary really cutting loose. Some purists might accuse him of overplaying and disrespecting the songs, when his aggressive picking style and string bends come to the fore. Yet, these glimpses of his true arsenal of tones and sounds are what distinguish him from mortal players.
A surprise encore of a track from Gary's first solo album 'Back on the streets' rounded-out the evening. Don't recall the title, but the deeply personal lyrics had something to do with Paris...
To my mind, in the context of a blues gig, he got the balance pretty much right-on. It was also great to hear him stretch beyond the trusted tone of the Les Paul to play a Telecaster on one song plus some slide guitar as well, so the guitar geeks went home happy for sure.
I know that many GaMoPhiles felt a little short-changed by a set-list that was almost identical to his recent SheBu show. However, the chance to witness the man in a club-size venue with great sound and vibe was a unique proposition and not to be missed.
Very glad that I made the effort and look forward to Moore of the same.
Set-list (and source album)
Oh pretty woman (SGTB) Bad for you baby (BFYB) Down the line (BFYB) Since I met you baby (AH) Have you heard ? (CAYCG) All your love (SGTB) Mojo boogie (BFYB) I'll love you more than you'll ever know (BFYB) Too tired (SGTB) Still got the blues (SGTB) Walking by myself (SGTB) ENCORES Blues are alright (AH) Parisien walkways (BOTS)
Albums BOTS = Back on the streets SGTB = Still got the blues AH = After hours CAYCG = Close as you can get BFYB = Bad for you baby


Review by Andy Rawll
Photos by Mark Taylor
---