FURY UK VR Rocksector Records Advance promo (2009)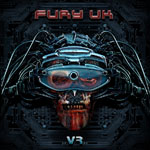 There's a lot to like about Fury UK. For those of a certain age, this Manchester based trio will evoke happy memories of sweaty rock clubs, heavy riffs and serious air guitar.
Here at GRTR! Towers we've watched the band grow in stature over the years, and a search will reveal resident heavy rock expert Joe Geesin singing their praises not least their last EP 'Salvation'.
Opening with "VR" there's a riff which reminds me of Iron Maiden ("Different World"). This is pretty much a wall-to-wall riff-fest and will appeal to lovers of Maiden, early Saxon, Samson and NWoBHM in general. The music is compelling with some proggy and unexpected touches in places, and there is the energy of a nascent Megadeth but without the thrash.
With excellent production and playing, and highlighting Chris Appleton's talent on vocals and guitar (and main songwriting duties), "VR" is a commendable statement of where the band are at in 2009 after coming through line-up changes (with brother Luke replacing Adam Cropper on bass and Martin McNee joining on drums).
I can't help thinking, though, that they should have refined some of the tracks and/or focused on some modern-day anthems, what you might have termed - in the good old days - "radio friendly".
Some tracks possibly go on a little too long such as 'Brotherhood' and the eight-minute 'Death By Lightning' but then the latter is listed as a bonus track. Additionally, there isn't enough light and shade with only the mid-tempo 'Outpost' breaking the general hell-for-leather riff-fest but - even then - the power chord is never far away.
It's a tough world out there and there are several excellent young bands in the classic rock vein treading the boards at present, including GRTR! Rising Stars Glyder (with whom Fury UK have gigged) and UXL, Jaded Sun and Heaven's Basement. The Answer (another young band who have flourished in recent years) also lack that light and shade based on the evidence of their latest album.
In their favour Fury UK are mining the rich seam of early eighties British rock rather than coming from a sub-Led Zeppelin/Free base like many young hopefuls. But what they don't really want is to end up playing to halls of beer-bellied beardies like me and I have to say that their style is very much aimed in that direction.
Although it would change the dynamics I'd like to hear Fury UK with a second guitarist and maybe even a keyboard player. In that respect, it will be interesting to hear how "VR" translates to the live situation with a support slot on the Blaze Bayley tour in May and an appearance at Bulldog Bash in August but my guess is that Fury UK will gather many new fans this year. This is an excellent album and things can only get better for the band.
****
Review by David Randall
---
| | |
| --- | --- |
| | Print this page in printer-friendly format |
| | Tell a friend about this page |