Just witnessed your best live gig?.. send us a review!
FRANCIS DUNNERY
A Kitchen in Surbiton, 4 October 2009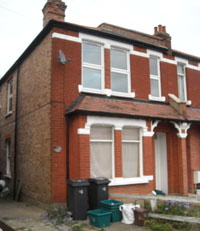 TThe venue for Francis Dunnery's latest house party
is now a listed building
I did have to blink at my computer screen, when I was invited to attend a gig by former It Bites frontman Francis Dunnery to be held in a kitchen. I've attended many low key gigs in my time, but in a kitchen? It wasn't to be scoffed at. So off I went with my knife and fork (sorry pen and paper) to the suburban town of Surbiton and the home of former Kerrang journalist Geoff Banks, who is tonight's host.
The last time I saw Francis Dunnery perform was when he was in Robert Plant's band back in 1994 in front of thousands at the Glastonbury Festival. Today is the only time I can literally say it's a full house. 37 guests were here today including music industry luminaries and devoted Dunnery fans.
We all crammed into the kitchen of this semi-detached house, with many sitting cross legged on the floor, there was a smell of burning coming from the oven as the couscous was more than ready. It was so crammed in the kitchen that some watched through the outside window from the garden.
This was so intimate, there was no need for speakers or microphones, just an acoustic guitar. As Francis Dunnery entered the room to a round of loud applause, it looked as if he just walked in from the pub after watching the days football game of the Rangers Celtic match as he was wearing the green and white hooped shirt of his beloved football team. I was struck by how much he has changed over the years, his hair cropped and his long blonde flowing locks long gone. (It wasn't actually Francis but a cropped-hair lookalike who plays for the local second XI - ed)
Francis Dunnery introduced us to Dorie Jackson who would be helping out on backing vocals and then went on to tell one of many stories he would be telling today. Brimming with confidence and never pausing for breath ,he held our attention throughout. Explaining that this tour will consist of only It Bites numbers to be called 'The Human Ego' tour.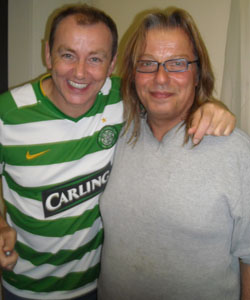 Francis and host Geoff Banks
With that he would go on to explain the meaning of ego, the meaning of astrology and also the meaning of meaning. Definitely been reading a lot of books on Zen Buddhism in his spare time, but we all listened intently and made us laugh at the same time. (Until we realised it was an imposter - ed)
It could've ended after just one song during 'Kiss Like Judas' when Dorie Jackson stood up to sing and nearly banged her head on the boiler. Quick intervention from Dunnery saved the day with his guiding left hand.
'Holiday' was a surprising song, Francis (We are on first name terms by now), explained that this was the song that got them a record deal with Virgin Records whilst living in a squat in Catford. He later went on to say how more fun it was to play in private houses than it is to play in Madison Square Gardens, although even he had not played in a kitchen before. (And vowed not to ever again, he hates couscous - ed)
The songs in their acoustic form sounded so much more alive and beautiful in this stripped form. At times encouraging the captive audience to join in on the chorus which they did in fine unison. I personally kept my mouth firmly shut as I didn't want next door's dog to start howling.
90 minutes soon passed by and things were getting heated in the kitchen as he left us with 'Still Too Young To Remember' with everyone singing along to the refrains of ''Don't you know, don't you know...you know''. I was completely bowled over and left to dry by this unique performance.
Francis hung around for half an hour afterwards and chatted and posed for photos before washing his hands of us and disappearing into the suburban darkness as we micro-waved him goodbye. I couldn't pan this at all and if you've got a few quid stuffed under the mattress then you could do no wrong in booking a very talented guy. Truly a memorable night.

Set list: Kiss Like Judas/ Holiday /Underneath Your Pillow /Hunting The Whale /Sister Sarah /Yellow Christian /Back In New York City /Whole New World /Still To Young To Remember.
Review and photos by Mark Taylor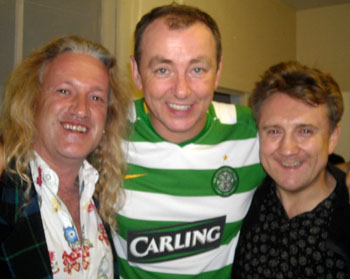 Francis Dunnery (centre) with Mark Taylor and It Bites fan Andy Rawll before Francis made his exit on a 1953 Raleigh bicycle.
---