FRACTAL Sequitur FRACCD04 (2009)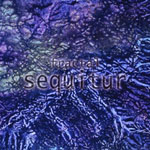 Variously described as 'music to tap your brain into', as well as 'style bending and blending to 'a band that taunts and flaunts prog rock convention', Fractal offer all things to all rock fans. But not quite. While Fractal certainly has an ability to bring together a myriad of thinly related musical landscapes they haven't yet unearthed their own masterpiece. But 'Sequitur' their second CD is a very good near miss.
Consider for example their own magnum opus, the four part 'Churn'. While it does indeed have its moments, the band still has a long way to go conceptually before rock fans in general will be able to listen to a few bars and recognise them as Fractal.
And in a sense the eclectic material is both the band's strength and its weakness. For while this San Jose based outfit are probably happiest as being regarded as Prog rockers, their various stylistic diversion aren't quite strong enough carve out what their liner notes refer to as 'a distinct musical arc'. But for many that will not pose a problem as there are enough familiar musical moments here to lever in eager new rock fans.
The opening 'Ellipsis' owes much to both Robert Fripp's guitar progressions and King Crimson in terms of mood, while the dreamy 'A Fraction of One' is undoubtedly influenced by Radiohead.
But the album offers yet more tips of the hat to influences such as Dead Can Dance on the 'relativist' philosopher's rant of 'Mauves' and the portentous Nic Mason drum style of 'Coriolis'. Hell, there's even a Terry Bozzio era/Zappa style rap on 'The Great Pain' and a thinly veiled re working of the Beatles guitar arpeggio from Abbey Road's 'I Want You (she's so heavy') and some later Jimmy Page style Zeppelin riffs in the mix.
In short if you are going to wear your influences on your sleeve at least Fractal has had the sense to pick some prime archival rock moments. Lyrically however, they are all out on their own with cute little word plays, some emotive button pushing and dark imagery.
The track listings get a bit confusing around 'Churn - Part One'- as the printed lyrics seem to bear no relation to the instrumental track. Nonetheless, the three part 'Churn' starts with an atmospheric Enid style overture and works its a way through related movements(the band's name apparently helpfully translates as 'it follows') before finishing with a Tangerine Dream/Klaus Schulze style ambient piece that acts as the perfect foil for the outpourings of angst that have gone immediately before.
As with much of the music on 'Sequitur', Fractal appear happiest in dealing with blocks of music. The band's real creative input seems to be in the fusing them in some sort of musical map that starts its journey with some vague Proggy jazz fusion pretensions and meanders its way through an enjoyable complex musical path, before finding a resolution in the surprisingly simple but effective computer generated finale, courtesy of drummer Paul Strong.
Mention should be made of all four members, Josh Friedman, Jim Mallonee, Nic Roozeboom and aforementioned Strong, who combine enough classic rock influences to sink a ship. And probably the reason the whole project actually floats is that 'Sequitur' has just enough emotional input and creative twists and turns to make repeated listens desirable.
****
Review by Pete Feenstra
---
| | |
| --- | --- |
| | Print this page in printer-friendly format |
| | Tell a friend about this page |