EMITT RHODES The Emitt Rhodes Recordings [1969 - 1973]
Hip-O Select reissue (2009)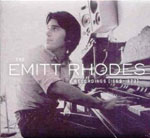 Emitt Rhodes, born in Decatur, Illinois in 1950, is regarded as a power pop master by those who know his music, but somehow he remains one of the most overlooked and under-appreciated pop-rock singer-songwriters of the '60s / '70s despite favourable comparisons to the likes of Paul McCartney and Badfinger. The Hip-O Select label go some way to addressing this travesty with a sumptuous, limited edition, remastered 2CD set which contains four original albums. These albums have largely been out-of-print over the years ("Mirror" and "Farewell To Paradise" have only been issued on CD in Japan until now) so it's a treat to have them reissued together in one definitive package.
"The American Dream", the first album here, was a contractual obligation that was completed by Rhodes after his band The Merry-Go-Round had disbanded in early 1969. It combined leftover band tracks with new Rhodes recordings and featured session players such as Hal Blaine, Larry Knechtel and Don Randi. It was temporarily shelved by A&M but they issued it in 1970, and then again as a slightly different version in early 1971 - a move that only served to confuse consumers as, by then, his first solo album proper was in the marketplace on the ABC-Dunhill label.
Among the highlights on "The American Dream" are 'Mother Earth', 'Textile Factory', the poignant 'Someone Died', the impressively orchestrated 'Come Ride, Come Ride', 'Let's All Sing' and 'You're A Very Lovely Woman' (later covered by Linda Ronstadt). You'll have to look elsewhere though for the Merry-Go-Round's best-known track - the classic 'Live', a song later covered by The Bangles.
Widely regarded as his masterpiece, and containing 12 of the finest power pop style songs ever recorded, "Emitt Rhodes" was the first of three home-recorded albums (the words "Recorded At Home" were etched in the vinyl!) and peaked at #29 on the Billboard charts. As the title of the lead single has it, the music still sounds 'Fresh As A Daisy' today and is an uptempo, joyous affair which opens with 'With My Face On The Floor' (which boasts a McCartney-esque vocal) and includes such gems as 'Somebody Made For Me', 'Live Till You Die', 'You Take The Dark Out Of The Night' and 'Lullabye', the latter of which was included in the soundtrack to the 2001 film The Royal Tenenbaums. Rhodes has acknowledged that both James Taylor and Randy Newman were equally as influential on his muse as The Beatles, and this is evident on the material here.
Rhodes' contract called for him to deliver a new album every six months, which unfortunately meant that 1971's 'Mirror' was a more rushed affair than his debut and suffered as a result. It's still a strong album by most people's standards but lacked the overall quality control of his debut. Standouts here include jaunty opener 'Birthday Lady', the contemplative 'Better Side Of Life', gorgeous ballad 'Love Will Stone You', the title track, and the stunning rocker 'Really Wanted You'.
"Farewell To Paradise" was issued in 1973 (non-album single 'Tame The Lion, notable for its anti-war lyrics, had been released the previous year and is included here as a bonus track). Like "Mirror", "Farewell To Paradise" is a patchy affair although the strongest cuts ('Warm Self Sacrifice', 'Blue Horizon', 'Shoot The Moon' and the melancholic 'Only Lovers Decide') demonstrate that his ability hadn't diminished in spite of the record company pressure that he was under. It proved to be Rhodes' final album to date. He became a engineer / producer / A&R man in 1976 and has continued to record other artists since, amassing a large catalogue of his own demos and unrecorded songs in the meantime which fans can only hope will one day see the light of day.
Hip-O Select mark this cult singer-songwriter's output in style with this superb package. The CDs are housed in a attractive foldout digipak. The 16-page booklet incorporates original album artwork, liner notes and credits, and also includes a new set of notes by Scott Schinder that give an overview of Emitt Rhodes' career.
If you're a fan of power pop or melodic singer-songwriters then I strongly recommend picking up this set - and it's a limited edition release so don't hang about!
*****
Review by Jim Henderson
Jim Henderson presents "Power Pop" on Get Ready to ROCK! Radio, Thursday 21:00, Sunday 14:00
---