EMERSON LAKE & PALMER (2009)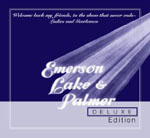 Prog rock in the early 70s was grandiose, Emerson Lake And Palmer took it a stage further, and self indulgence too. Promoting the excellent Brain Salad Surgery album, they took 40 tons of equipment on the road, and gave is the above mentioned triple album (here on 2 CDs). Everything is bigger, expanded, more overblown.
For a 3 piece, you got everything in the mix, Carl Palmer mixing rock rhythms with jazzier intricacies, Keith Emerson's keyboards (huge banks of them) throwing in the kitchen sink and more. From distorted Hendrix like keyboard riffs to classical music, and everything in between. Then there's Greg Lake, distinctive voice and underrated bassist.
Many of the tracks on Welcome Back My Friends To The Show That Never End, Ladies & Gentlemen ... (Universal, 2CD) feature others in medley style, but openers 'Hoedown' and 'Jerusalem' and 'Toccata' are all excellent and succinct. The excellent 'Tarkus' runs to 27 minutes, featuring an excerpt of 'Epitaph', and the 11 minute 'Take A Pebble' features 'Still You Turn Me On' and 'Lucky Man'. Here the folk end of prog shows ELP's lighter moments.
On to disc 2 and you get Emerson's 'Piano Improvisations' which covers 'Fugue'.
The highlight of the album, and the highlight of ELP's career, is conceptual 3 piece work of 'Karn Evil 9'. It runs to over 35 minutes; nuff said. ****
By the mid to late 70s, ELP were working more and more on solo material, and the two Works (Universal, 2CD) collections from 1977 are brought together here. This isn't classic ELP, a lot more experimental, and as self indulgent as it gets. Volume 1 is the more classical affair, with the original 2LP seeing a side each to the 3 members and sidrfde 4 group work. Emerson gives us 'Piano Concerto No 1', and similarly Palmer several more drum oriented pieces. Lake recorded 'C'Est La Vie' and 'Hallowed Be Thy Name' (both released as singles), amongst others.
Highlight here is the group's interpretation of 'Fanfare For The Common Man'. Volume 2, more succinct tracks this time, and includes 'Brain Salad Surgery' (not included on the LP of the same name), Greg Lake's hit 'I Believe In Father Christmas' and Keith Emerson's 'Honky Tonk Train Blues'. ***½
Overblown, completely. And the packaging is wonderful too; digipacks with full and informative booklets and photos.
****
Review by Joe Geesin
---
| | |
| --- | --- |
| | Print this page in printer-friendly format |
| | Tell a friend about this page |