EDDIE MONEY Sound Of Money - Greatest Hits SPV Yellow (2009)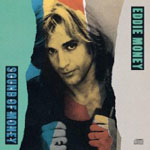 This hits package first saw the light of day back in 1989 at the peak of Eddie Money's success who rode the whole 80's boom for melodic rock/AOR with ease. Never a big name over here in the UK like fellow 80's AOR solo artist Michael Bolton was, that was before Bolton became soul(less). He still tours the US now mainly on the summer rock package tours.
Money actually started back in the 60's but it was from the late 70's through the 80's that he hit the big time with some bona fide AOR classics like 'I Wanna Go Back' and 'Take Me Home Tonight (Be My Baby)'. This hits package added three new songs including a cracking 'Peace In Our Time'. In fact there is not really any duff songs on here and as an introduction to Eddie Money this is the place to start.
This re-issue adds sleeve notes by 'Classic Rock' writer Jerry Ewing but no bonus or remastered tracks so if you are a fan already there is nothing here to pull you in.
****½
Review by Jason Ritchie
---
| | |
| --- | --- |
| | Print this page in printer-friendly format |
| | Tell a friend about this page |
***** Out of this world | **** Pretty damn fine |
*** OK, approach with caution unless you are a fan |
** Instant bargain bin fodder | * Ugly. Just ugly
get ready to rock is a division of hotdigitsnewmedia group