EARTH & FIRE Reissues Esoteric (2009)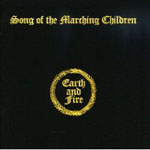 There's an almost xenophobic faction out there that will have you believe that progressive rock in its 70's heyday was an essentially British phenomonen. It's twaddle, of course.
A relative stone's throw over the North Sea found the Netherlands busying itself away with internationally successful yodelling Focus, quirky Supersister, flash rockers Golden Earring, and this symphonic act - all doing nicely thank you.
These three bonus-packed, re-mastered reissues capture Earth & Fire rushing to a creative peak by 1971 with second album Song of the Marching Children by way of the previous year's feisty debut - Earth & Fire - of West coast-inspired pop psych fusion, creeping to a growing identity crisis by 1973's faintly portentous concept release Atlantis.
What manner of beast is this, then? Imagine Northern Ireland's Fruupp (just not quite so 'away with the fairies') hitched, courtesy of Jenny Kaagman's strident vocal, to German underground uber-cult Amon Duul II.
For all of the genre's excesses (earnest but befuddled sixth form lyrics, lengthy extemporising coupled to chops of pathologically-tricky time signature changes) Kaagman's urgent pleading lent her band a welcomedly other-wordly air.
'Song of the Marching Children' exemplifies it, couching her in a wash of Hammond organ, mellotron and dexterous guitar evoking an appropriately plaintive context for a concept album about reincarnation.
Stand-outs include the sprawling title 'suite' (they did suites big then) and 'Storm and Thunder' - a truncated version, a hugely successful single across northern Europe, is a bonus as is 1972's catchy 'Memories'. All good, if inevitably dated, but of the three releases, 'Children' stands as a progressive high point.
Earth & Fire ***
Song of the Marching Children ****
Atlantis ***
Review by Peter Muir
Peter Muir presents "Progressive Rock Fusion" on Get Ready to ROCK! Radio, Sunday 19:00, Monday 19:00
---
| | |
| --- | --- |
| | Print this page in printer-friendly format |
| | Tell a friend about this page |